Challenging Gifted 10th Graders
Question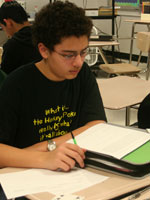 Do you have any tips on how I can challenge gifted high school students? I know that class presentations, cooperative learning activities and field trips can help, but what other strategies can I utilize? My content is 10th grade World Civ. Thanks!
Answer
First, thinking about task and content may open up more possibilities than particular strategies. What are your students reading and writing about in your class? Have they gone beyond the textbook? Have they learned to analyze a historical source and read for subtext? Have they written historical essays that require them to use evidence from both original and secondary sources to construct an argument? None of these things are easy, but each of them opens up opportunities to practice these important ways of thinking with varied topics and sources.
There are free resources on the web that can help you select documents and teach disciplinary ways of reading, thinking, and writing.
An excellent site for lessons and teaching units is World History for Us All (although still under development, this site has numerous units ready to use. World History Matters has helpful teaching resources and the online journal, World History Connected includes useful links. Historical Thinking Matters models historical investigation, prompting students to grapple with a question about the past, consult relevant sources, and use evidence to answer the question. (Although the site is focused on U.S. history—it illustrates the kinds of tasks we're talking about).
Once students have some guided experiences with these activities, they could be challenged by activities like webquests, creating annotated bibliographies of useful sources for understanding a particular topic, and small or more extensive research projects.
Also don't forget the power of having them read a full length history book—you can find specific recommendations on some of the above sites.
Challenge your gifted students by engaging them in tasks that require them to analyze, interpret, and produce. Ask them to go more deeply into a subject or do further research into a topic.
Good luck!