At a Glance
Topics
Civilian Conservation Corps; New Deal, Civil Rights
Website
Grade(s)
8, 9, 10, 11, 12
Download
Civilian Conservation Corps
Students engage in a sophisticated exploration of the African American experience with the Civilian Conservation Corps (CCC) during the Great Depression.
Review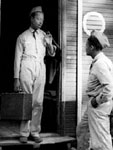 The strength of this 2–4 day lesson is that it presents students with primary source documents representing multiple perspectives. These documents can help build students' understanding of the issues surrounding African American employment in the CCC. The documents also provide an excellent platform for students to explore the sticky political and civil rights issues facing the Roosevelt administration as it attempted to hold together a precarious political coalition that included both large numbers of African Americans and conservative Southern Democrats opposed to civil rights reforms. The lesson is comprised of four activities. Each activity is well structured and provides detailed procedures for classroom teachers. Teachers will use class discussions to assess student learning. The lesson closes with a solid writing prompt that encourages students to use documentary evidence to construct a historical argument. The lesson plan does not, however, provide resources for teachers to help students construct a high-quality historical essay. We suspect that teachers may need to provide guidance and assistance for writing the essay beyond that which is described in the lesson.
Notes
You can register to use the Edsitement Teacher Portfolio to organize documents and student work online if you wish. Registration is free.
Teachinghistory.org Lesson Plan Rubric
Field
Criteria
Comments
Historical Content
Is historically accurate?

Yes Historical background is detailed and accurate. Most documents are from the American Memory collection of the Library of Congress.

Includes historical background?

Yes Lesson includes a brief overview for students.

Requires students to read and write?

Yes Lesson centers on reading and interpreting documents. It ends with a writing assignment that requires students to use textual evidence to support their answers.

Analytic Thinking
Requires students to analyze or construct interpretations using evidence?

Yes Students use evidence from primary documents to build understanding of the African American Experience in the CCC and its political and social ramifications.

Requires close reading and attention to source information?

Yes Guiding questions require close reading of both source and perspective.

Scaffolding
Is appropriate for stated audience?

Yes Appropriate for 9–12 U.S. history classrooms. Could be adapted for higher-level middle school classrooms.

Includes materials and strategies for scaffolding and supporting student thinking?

Yes Activities 1, 2, and 3 include excellent guided questions for use in class discussion or small group exploration. Activity 3 provides strategies to help students analyze a primary document.

Lesson Structure
Includes assessment criteria and strategies that focus on historical understanding?

No Assessment is conducted primarily through class discussion. However, a final essay question encourages students to use historical evidence. No evaluation criteria are included.

Defines clear learning goals and progresses logically?

Yes The four activities are well structured and the activities progress logically.

Includes clear directions and is realistic in normal classroom settings?

Yes Activities are clear and explicit. Of course, teachers may need to adapt the lesson to meet student needs. Lesson presents teachers with the option to use electronic tools to help manage documents and student work if they set up a free user account.