At a Glance
Topics
Quaker opposition to slavery during the Revolution
Features
Focus on historical thinking, Further resources for teaching this content, Inclusion of multiple perspectives, Multiple Sources, Opportunity to analyze causation
Duration
1-2 days, 90 minutes total
Grade(s)
7, 8, 9, 10, 11, 12
Download
New Jersey's Quakers and the American Revolution
While many Quakers owned slaves prior to the American Revolution, the Quakers passed a rule in 1758 forbidding their members to buy or sell slaves. This lesson examines how the Quakers' religious views influenced their opposition to slavery during the Revolutionary period. We like that students are asked to analyze a series of primary sources to identify the reasoning behind the Quaker's anti-slavery stance.
Review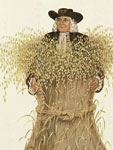 The lesson plan suggests that teachers begin by delivering a lecture based on an online talk by historian Jean Soderlund. (Adobe Flash Player and Acrobat Reader are required to access the lecture). However, the historian's lecture is brief, informative, and fairly engaging, so teachers may want to consider playing the lecture for students.
Next, students are asked to read a set of documents written by Quakers in the 18th century, and identify the various reasons Quakers were opposed to slavery. The documents are rich and informative. However, the language is challenging; and teachers may need to modify and shorten the documents, and create guiding questions to help students analyze them.
For an assessment, middle school students create protest pamphlets expressing the reasons behind Quaker opposition to slavery. High school students analyze the Declaration of Independence from the Quaker perspective. High school teachers may want to consider having students also analyze the original draft of the Declaration of Independence which had much stronger language opposing slavery. The original draft of the Declaration of Independence reflects more of Jefferson's personal views, while the final version reflects more of the consensus view of congress.
Notes
Teachinghistory.org Lesson Plan Rubric
Field
Criteria
Comments
Historical Content
Is historically accurate?

Yes

Includes historical background?

Yes
The plan provides a brief historical overview and a historian's lecture.

Requires students to read and write?

Yes
Students must read primary sources and respond with a written assessment.

Analytic Thinking
Requires students to analyze or construct interpretations using evidence?

Yes
Students read several primary documents to determine the reasons behind Quaker opposition to slavery in the 18th century.

Requires close reading and attention to source information?

Yes

Scaffolding
Is appropriate for stated audience?

No
The language of the documents may have to be modified—especially for middle school students.

Includes materials and strategies for scaffolding and supporting student thinking?

No
Teachers should consider providing students with a few focusing questions for each document.

Lesson Structure
Includes assessment criteria and strategies that focus on historical understanding?

Yes
There are different assessments for the high school and middle school level. However, no rubrics or specific assessment criteria are included.

Defines clear learning goals and progresses logically?

Yes
A sleek lesson that could be done in one or two class periods.

Includes clear directions and is realistic in normal classroom settings?

Yes