Students Working in Local Historic Preservation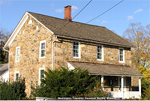 What Is It?
History comes alive when students volunteer at their local historical society museum and they learn the art and value of historical preservation. This service-learning project bridges the needs of a museum that was understaffed with the opportunity for students to practice being historians.
Rationale
Every community across America has a story to tell through its architecture, its people, its use of space, its resources, and its role in the larger American narrative. Our town has a rich history that dates back to the colonial period and like many small towns, we have a historical society with a museum that houses a rich collection of historical documents and artifacts that tell the story of our past. However, because of limited funds, a lack of proper materials for preserving items of historical value, and few volunteers, we were in danger of losing much of this collection. As a history teacher I'm always searching for ways to make the study of history relevant to my students. Providing them with an opportunity to volunteer at the museum seemed like a perfect way to marry the interests of our local community with my objectives as a history teacher. I hoped that through this experience my students would develop greater appreciation for preserving history and an understanding of the methods used in historical preservation. This partnership could also help bring the museum into the 21st century by creating a database of the museum's collection that could be shared with the public and school groups. In addition it would give students a glimpse into the work of historians, preservationists, archivists, and archaeologists.
Description
As a history teacher I'm always searching for ways to make the study of history relevant to my students
I contacted the director of the historical society museum to discuss the possibility of using students in the museum to help with their work. The staff was cautiously optimistic, though concerned about adolescents working with valuable documents. When they agreed, I asked four of my capable, dedicated students who had expressed an interest in this work to help me launch the program. Each year I have added students to the group and currently 14 students work one to two hours weekly under the supervision of a volunteer museum staff member. It has been rewarding to observe my students doing work of great value, and it provides the museum with the work it needs to give the community a glimpse into their past.
Teacher Preparation/Procedure
1. Contact your local historical society or museum and ask what opportunities are available for your students. I made an initial phone call to introduce myself and to ask about possible projects. I then visited the museum to meet the director and to work out details of the project. 2. Determine the interest level of your students. Students are always looking for ways to improve their chances at college acceptance. This opportunity was intriguing because of its uniqueness and because it would provide them with community service hours that many need for scouting, National Honor Society, or just because they want to be more involved. I also introduce them to the value of historic preservation and help them to recognize the community need to preserve the artifacts and documents housed in our museum. 3. Get approval from school administrators. 4. Provide students with permission slips to be completed by their parents. 5. Conduct an orientation meeting for students and museum workers. This is held at the historical society museum and the museum staff introduces the students to the workplace and discusses the type of projects they will work on. A survey form is provided to the students to gauge their interest and availability. 6. Create a schedule for volunteers indicating dates and hours they are expected to work. I post this in my classroom so that I know who is working on a daily basis. I also maintain an email chain that is shared with the museum staff. 7. Students must have transportation to and from the museum. Students in my district are bused so they are able to use the school buses to get to the museum after school. Parents must provide transportation home. 8. Visit the museum periodically when students are working to encourage them and see their progress. I volunteer one day a week myself and work along with the students, although this is certainly not necessary for the program to be successful. 9. At the end of the season, the museum hosted a special presentation for students, parents, and school administrators to showcase the work of the volunteers. It included a PowerPoint presentation featuring each student and the work that he/she accomplished. This was a wonderful celebration to demonstrate the students' accomplishments and efforts. 10. Contact your local newspapers to advertise what students have done for the community. This will go a long way in getting support for your efforts and in encouraging more students to participate.
Pitfalls
Be sure the students understand the seriousness of their work and the importance of honoring their commitments. You may want to wait for the school year to be underway before beginning. We actually begin in January and end in May. By then I know my students better and can determine who is best suited for the program.
We volunteer during two different sports seasons so the group I begin with may not be the group I end with. Be open to substituting students over time. I don't turn anyone away even if they cannot commit to the entire program.
Students should discuss carpools and transportation issues.
Have a phone/email chain for messages and communication.
Inclement weather and vacation schedules should be discussed.
Be sure the students understand the seriousness of their work and the importance of honoring their commitments
Additional Resources for Teachers
National Trust for Historic Preservation This site provides teachers with a rationale for teaching historic preservation and a series of articles and model lesson plans that can be incorporated into K-12 classrooms. The focus is on teaching students the value of preservation and to provide them with opportunities to be actively involved in the history of their community through preservation projects. Examples of articles range from how to conduct oral histories to how to "adopt" a historic site. Advisory Council on Historic Preservation A step-by-step approach to describe what a historic preservation service learning project looks like. The Advisory Council on Historic Preservation, in concert with the Preserve America Foundation, is committed to encouraging students to take on service learning projects that will enhance their understanding of American history and allow them to gain a greater appreciation for preservation efforts. The site also includes articles highlighting the commitment of our President and First Lady in recognizing the contributions of citizens who effectively engage in historic preservation projects. National Council for Preservation Education Guide to undergraduate programs in preservation. Teachers and guidance counselors might find this helpful in advising students who have a particular interest in historic preservation programs. Teaching with Historic Places Provides teachers with lesson plans that focus on students acting as historians as they learn about sites that are listed on the National Registry of Historic Places. The lesson plans are categorized by state, theme, time period, and skills. The intent is that students will learn history in a more active way and come to appreciate our nation's cultural resources.
Acknowledgments
A special thank you to the members of the local historical society who have patiently guided my students in the art of preservation and provided us with a firsthand opportunity to learn history.