Let's Get Folky
Question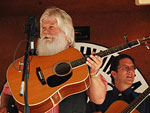 I need ideas for constructivist lesson plans that teach American history through folk music. Can you help?
Answer
Music can be a great resource for American history teachers. Just like textual primary sources, songs have historical meaning that students have to work to uncover. A song, no less than a presidential address, reflects the time in which it was created, as well as the perspective of its author. Consequently, you'll want to ask students to consider who wrote the lyrics, what those lyrics mean, who the audience for the song was, and what was going on in the United States at the time. You might want to pair the song with other sources—newspaper clippings, radio addresses, photographs of protests, etc.—that students can piece together to better understand a particular historical era.
Folk music, of course, is distinct from popular music in one general regard: unlike music created by professional recording artists, folk music is generally made by ordinary people and integrated into everyday life. So, while many well-known artists like Woody Guthriehref> and Bob Dylanhref> certainly played folk music, it can often be used as a way of better understanding the lives of people frequently left out of history textbooks. PBS's brief history of American folk musichref> might be a good place to start, establishing the unique nature of the genre and helping you focus your search for resources.
As always when looking for classroom resources, teachinghistory.org can help. Our Teaching in Actionhref> section, for instance, includes an example of how a song might be used in the classroom, providing links to videos in which 4th grade students learn about John Brown's raid on Harper's Ferry by analyzing the song "John Brown's Body."
Our Using Primary Sourceshref> section also has some appropriate resources for you. One entry on Making Sense of American Popular Song href>highlights a website that provides questions to ask when using music in the history classroom, a model interpretation of a popular song, and links to resources. Another entry, on Document Analysis Worksheets, includes a link to the National Archives, which has a special "Sound Recording Analysis Worksheet."href>
Beyond the Teachinghistory.org website, you might want to look at some of the other usual suspects for high quality materials and lesson plans.
Beyond the Teachinghistory.org website, you might want to look at some of the other usual suspects for high quality materials and lesson plans. EDSITEment—a project of the National Endowment for the Humanities—is always a good place to look. They have a lesson entitled "Music from Across America"href> that explores the intersection of music and popular song. The Library of Congress is always a good resource, and they have a full page of linkshref>, as well as some specific lesson plans like one on California folk music in the 1930shref>. Finally, PBS's American Roots Musichref> website has four lesson plans as well as a bibliography that you might find useful.
There are also some specific music-related sites worth exploring. The Rock and Roll Hall of Fame also has a page of lesson planshref> dedicated to teaching with music. You might also want to explore Smithsonian Folkwayshref> to see what music they have available.