At a Glance
Teacher Review
Kevin Spritzer
lpr_spritzer1.mov
Play video
Topics
Abraham Lincoln, U.S. Civil War
Features
Focus on historical thinking, Further resources for teaching this content, Multiple Sources, Opportunity to analyze causation, Scaffolding of close analysis of text, Useful for differentiating instruction, Useful for English language learners
Duration
1-2 class sessions
Download
Abraham Lincoln
Students analyze Abraham Lincoln's adult life in Springfield, Illinois, and its influence on his political thinking.
Review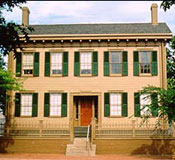 This lesson provides an opportunity for students to see how Lincoln's home and life in Springfield influenced the way he thought about the important issues of the time. Students answer questions about photographs and maps to develop a context for thinking about documents related to Lincoln and the Civil War. An engaging set of vintage photographs and maps shows Lincoln's world and helps students better understand the spirit of the times. But the real strength of this lesson is in the excellent text resources and accompanying questions provided for students. We especially like the carefully excerpted passages from key speeches by Abraham Lincoln that are provided in the readings section of the resources. We suggest that teachers use this excellent set of materials to design their own final writing assignment. We would love to see something that has students make explicit their understanding of how Lincoln's political ideas were influenced by the place and time in which he lived and died. Students could use evidence from both the visual and print media they have studied to write an essay on this topic. Another approach would be to assign separate essays relating to specific texts such as Lincoln's Farewell Address to Springfield. The suggested activities, listed in the Putting it All Together section of the lesson plan, unfortunately do not focus on helping students do this kind of synthesis.
Notes
This is part of the National Parks Services' Teaching with Historic Places project designed to focus classroom attention on specific sites of historical significance around the nation.
Teachinghistory.org Lesson Plan Rubric
Field
Criteria
Comments
Historical Content
Is historically accurate?

The supplementary resources for teachers are excellent.

Includes historical background?

Yes Background readings are provided for students.

Requires students to read and write?

Yes Students read primary and secondary sources and answer questions about them. Teachers can be selective about which questions to feature. We recommend requiring written answers.

Analytic Thinking
Requires students to analyze or construct interpretations using evidence?

Yes Guided questions are included to help students analyze the resource materials. We particularly like the questions that ask students to compare different sources to create their answer. However, the lesson lacks a culminating activity that requires students to interpret and synthesize the set of materials. Teachers will need to devise a task that requires this.

Requires close reading and attention to source information?

Yes The lesson uses a variety of sources. However, students may need reminders to pay close attention to the date and location of the source's origin as there are no explicit questions that help them do so.

Scaffolding
Is appropriate for stated audience?

Yes Students at lower skill levels may require additional guidance from the teacher.

Includes materials and strategies for scaffolding and supporting student thinking?

Yes Significant portions of texts are excerpted or highlighted to make reading easier. In addition a structured photo analysis worksheet is provided to help students learn to interpret visual evidence.

Lesson Structure
Includes assessment criteria and strategies that focus on historical understanding?

No No assessment strategies or criteria are included.

Defines clear learning goals and progresses logically?

No Several different learning goals are attainable with these materials. We suggest that teachers make use of the strong visual component in this lesson to highlight how non-textual sources of evidence can help us understand how Lincoln developed and expressed his political ideas.

Includes clear directions and is realistic in normal classroom settings?

Yes Directions are clear and the materials are suitable for all classrooms. Specific instructions on how to use historic sites to teach history are provided.