At a Glance
Features
Focus on historical thinking, Inclusion of multiple perspectives, Multiple Sources, Scaffolding of close analysis of text, Useful for differentiating instruction, Useful for English language learners
Grade(s)
6, 7, 8, 9, 10, 11, 12
Download
Propaganda and World War II
Students compare World War II propaganda posters from several countries and then choose one of several writing assignments to demonstrate what they've learned.
Review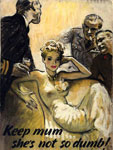 In this lesson from HERB—a website produced by the American Social History Project/Center for Media and Learning—students learn how to examine posters as primary sources and work with them to write essays. In addition to a collection of wartime propaganda posters, the site includes a brief essay providing historical context, as well as a well-designed "propaganda poster analysis worksheet" that students can use to explore the meaning of each document.
After work in small groups that includes each student analyzing a poster, students demonstrate their understanding through different kinds of writing assignments. These range from considering the historical time and events the poster sits within, to comparing two posters, to fiction writing.
The strength of this lesson is the collection of documents it brings together. Posters from the United States, Great Britain, Nazi Germany, and the Soviet Union give students insight into the propaganda machines operating in each country during the Second World War. Because each document is visual in nature, it is a good lesson for struggling readers and English Language Learners. The group structure is also a strength as students have the opportunity to analyze a single poster, but also to look for patterns across several posters.
The HERB website can be navigated several different ways: by collection, by historical era, or by approximately 70 different teaching activities.
Notes
Teachinghistory.org Lesson Plan Rubric
Field
Criteria
Comments
Historical Content
Is historically accurate?

Yes

Includes historical background?

Yes
A brief historical background to U.S. propaganda during the period is provided, but additional background may be necessary for teachers to feel fully prepared.

Requires students to read and write?

Yes
Students show their understanding through writing.

Analytic Thinking
Requires students to analyze or construct interpretations using evidence?

Yes
Requires close reading and attention to source information?

Requires close reading and attention to source information?

Yes
The poster analysis worksheet is an essential tool.

Scaffolding
Is appropriate for stated audience?

Yes
Because the sources are visual, they are useful for a number of audiences.

Includes materials and strategies for scaffolding and supporting student thinking?

Yes

Lesson Structure
Includes assessment criteria and strategies that focus on historical understanding?

This is partly dependent upon the choice of writing assignment. No criteria are included.

Defines clear learning goals and progresses logically?

Yes

Includes clear directions and is realistic in normal classroom settings?

Yes
Directions are brief and clear. Teachers must design necessary supports for own writing assignments.