Using Blogs in a History Classroom
What Is It?
Using the technology of blogging in the classroom to improve critical thinking and analysis skills.
Rationale
Using a teacher-created blog in a history classroom is a way to engage students through a different medium. Students of today relate more and more to technology and will welcome a different way of learning. Using a teacher-created blog will also allow you and your students to exchange ideas in an asynchronous environment.
Description
This teaching guide will assist teachers who want to set up their own blogs for their history classrooms. The first part of the guide describes how to create a blog. The second part of the guide suggests activities for improving students' critical thinking and analysis skills in a history classroom.
Teacher Preparation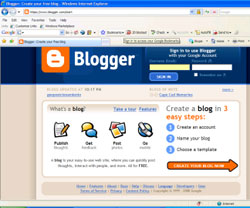 Choose a site. There are    several places that a teacher    can go to create a blog. Most    of the sites are free and easy    to set up. A popular site for    creating a blog is Blogger    which is owned by Google.    Other sites include Wordpress    and Edublogs. I have been    using Blogger for three years    and have been very happy    with its ease and reliability.    Setting up an account is    simple and straightforward. Blogger allows you to set up your account    in three easy steps. (See image right.)
For Blogger and Edublogs, create a title and your own URL. The title can    always be modified, but the URL is permanent so create wisely. The URL  will be your choice. With Wordpress, you are    downloading blogging software and then you need to subscribe to a web    host (like Go Daddy), which charges a fee; you can then choose your own    URL.
Once your blog has been created you are ready to begin blogging. You will    want to be clear with students, parents, and administrators about your    expectations and reasoning behind using your blog. Also be sure to review    your district's Acceptable Use Policy with your students. You will want to    contact your Instructional Technology (IT) department to make sure the    blog will not be caught by your school's filter. Occasionally access may be    blocked if your school's filter is too restrictive. If this happens you will    need IT to adjust the filter.
To start out, you will want to be the only one to post a topic for    discussion. This will enable you to establish the topic and provide i    instructions for students to follow when commenting. Once a topic has    been posted with specific instructions, the students can post their    comments. If you are using Blogger, you can regulate who is allowed to    post comments. The "dashboard" in Blogger allows you to restrict    comments to your students. You can also allow parents and members of    the community to post comments by adjusting the settings in the    dashboard of your Blogger account. You need to choose what method fits    your situation best. The screenshot above shows what appears after a student clicks on the comment link. To leave a comment, the students type in the comment box, insert the word verification, and then choose their identity (assigned by the teacher). As the creator of the blog, you will be able to edit and remove any comments that you deem inappropriate.
In the Classroom
There are several different ways a teacher-created blog can be used in a history classroom. These include ways to: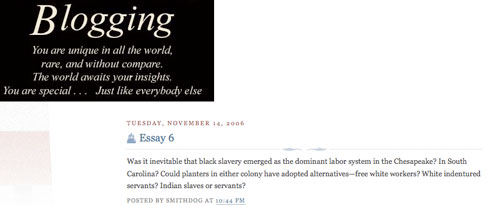 Have students post ideas and opinions about topics discussed in class.
Have students post potential thesis statements and allow other students    to comment on each thesis. (See example below)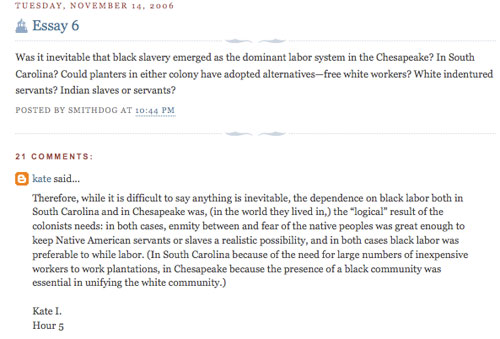 Common Pitfalls
When you decide to create your own blog there are some pitfalls to avoid.
Start slow and small; don't try blogging with all your classes at once. You    will want to focus on one class at a time while getting comfortable with    your blog. Trying to do too much too fast will become frustrating and    overwhelming.
Remind students to omit their last name and other personal information    when they post comments. My students use only a first name or a    nickname and their class period.
Acknowledgments
Thank you to Dr. Helen Rallis and Dr. Terry Shannon at the University of Minnesota-Duluth who advised me with my M.Ed with an emphasis in technology and turned me on to blogging.
For more information
Read more about blogging and get examples and best practices from other educators in the Tech for Teachers section.