Deciphering Primary Source Documents
Question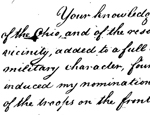 I'm trying to teach my secondary students how to read documents from the 18th century (such as letters) and notice how bogged down they get because of the complexity and length of the sentences. What tools or advice could I give that would help them develop this skill?
Answer
Ah yes…your question captures a problem many history teachers face. First, let us congratulate you on engaging your students in the raw materials of the discipline and persisting even when the going proves difficult. Syntax can be a major stumbling block for students when reading older texts: we recommend scaffolding and careful preparation of the documents to help your students meet the challenge.
Careful Preparation of Documents
See our guide on adapting and modifying documents for ways to make difficult documents more accessible for students. Keeping those documents short, defining difficult vocabulary, and even simplifying syntax (while letting students know that you've done so) can help. See the Reading Like a Historian curriculum from the Stanford History Education Group for examples of carefully prepared 18th century documents. The Hamilton vs. Jefferson plan includes two 18th century letters that have been modified. Find our entry about this curriculum here.
One thing to remember is that students need to experience some success with reading difficult documents to want to persevere with them. Carefully prepared documents, especially at the beginning of the school year, can be critical to this.
Scaffolding
There are many ways to support students' reading of difficult documents. Here are a few strategies.
Background knowledge about what students are reading can help them make sense of the text. Consider what they need to know about the times and the event before they read and then use a short lecture, a headnote, a textbook excerpt, or another method to help them gain that background knowledge. Going a step further, for a very difficult document you may want to give them a short summary (1-3 sentences) of what the author is talking about.
Modeling how you read the document can be helpful too. This allows students to see how you also struggle with the language and the strategies you use to make sense of it, like rereading, monitoring your understanding, and asking questions. See this entry for an introduction to Reading Apprenticeship, an approach that focuses on reading and thinking aloud together to help students become better readers. Also see historicalthinkingmatters.org for examples of "think-alouds" where students and historians are shown making sense of historical documents using specific historical reading strategies. (find one example here.)
Use difficult syntax from our own times (a song or poem) to help students recognize their task and specific strategies for pushing through to understanding.
Teaching some explicit strategies can also help. This guide has ideas for teaching students to annotate documents, something that can help them learn to monitor their own understanding and seek out help when needed. Also see work done at the Oakland Unified School District in California for examples of guiding students to figure out what an excerpt says before any analysis. See an example here: scroll down to the question, "Was the creation of the U.S. Constitution good for the people of the United States?" Then look at the assessment and support materials for that question and you will find, on page 4, one example of how they do this.
A short introductory activity where you focus on the difficulties of making sense of unfamiliar syntax can be helpful. Use difficult syntax from our own times (a song or poem) to help students recognize their task and specific strategies for pushing through to understanding.
More Resources
In our lesson plan reviews, find plans that can inspire ways to work with text that is difficult for students. See this one on the Preamble to the U.S. Constitution or this one on the Declaration of Independence. Both of these are for younger students, but both show the necessities of slowing down to read the documents and focusing on short pieces of text.
You may want to also check out this response that reiterates some of what I've said here.
And remember, it's the beginning of the year. You will, hopefully, have these students for many lessons and helping them learn to slow down, monitor their reading, and strategize when they are stuck will happen with multiple and varied chances to practice these skills.