Meshing History and Montessori Method
Question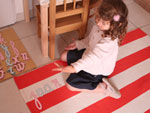 I teach 4-5 grade students at a Montessori school. We are looking to improve our history curriculum and trying to decide the best route to go: a quality text book set from a major publisher such as Houghton Mifflin or using literature, picture books, first sources, etc. Any suggestions?
Answer
You might find that an inquiry approach to teaching history aligns nicely with the Montessori philosophy of education. An inquiry approach requires students to construct and critique interpretations of the past. Through investigation, close reading, and analysis of primary source evidence, students learn how history is viewed from multiple perspectives and develop a deep understanding of the past.
Primary sources, and to a lesser extent textbooks, can support inquiry-based instruction.
Primary sources, and to a lesser extent textbooks, can support inquiry-based instruction.
For rich and relevant primary resources, the Library of Congress (LoC) has several documents sets that have been created for teachers. The LoC also provides teachers with document analysis worksheets for students as well as several document-based lesson plans.
Go to The Bringing History Home website for comprehensive examples of unit plans that support an inquiry approach for grades K-5. This site has several fully developed units with lesson plans and assessments where students are encouraged and supported to engage in rigorous history explorations.
As for textbooks, A History of US, a series of history textbooks written by Joy Hakim, is considered by many to be an engaging narrative that pushes students to think critically about the past. Teachers may also wish to use a textbook from the major publishers. When selecting any textbook, teachers may want to consider the points raised by researchers about how textbooks present information.
There are several online and print resources available to teachers to help them develop an inquiry approach to teaching history. We highlighted a few, but also recommend that you search our history content page where you can search for a variety of history resources based on topic.
To view examples of elementary school teachers engaged in inquiry-based instruction with primary documents, check out the following "Examples of Teaching" on our site: