Head Start Expectations
Question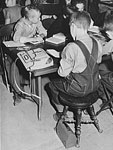 What are kindergartners expected to know coming out of Head Start?
Answer
For a child in preschool, their classroom surroundings encompass the meaning of Social Studies. When a preschooler enters the classroom they will be required to share, communicate, take turns, and identify their role as a member of a community. Essentially, the outcomes for a preschool student are to learn how people relate to one another, their environment and to the world they live in.
In addition, preschool Social Studies outcomes include (but are not limited to):
learning how to form friendships and trusting relationships with their peers and teachers
learning how to make decisions independently, solve problems, and take turns
learning how to identify feelings and express them in an appropriate way
develop a sense of belonging to a classroom community
develop an understanding of differences between people (we are all individuals, we are all special)
develop a sense of personal responsibility (safe choices, healthy choices)
Additionally, if we acknowledge literacy as central to the K-12 history/Social Studies curriculum, you would also want to encourage preschoolers' love of story through reading and talking about engaging picture books together.