Researching the Role of the Map in History Teaching
Question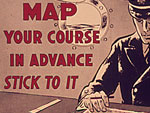 I am doing some research on the use of maps to teach history. Any suggestions for research or theory would be helpful.
Answer
To get oriented to how maps can be used to teach history and begin exploring links to relevant websites, this newsletter can be a useful first stop. You will find links to videos of teachers using historical maps, checklists for what to focus on when teaching with maps, reviews of best practices, and links to teaching modules. The fundamental idea behind these resources is that geography can provide the context for sophisticated historical thinking if students are encouraged to actively think about what maps show and why they show it.
One of the clearest rationales for using maps to teach history that I have seen can be found in a recent book by David Rumsey(1) and Meredith Williams entitled Historical Maps in GIS. The authors argue that:
Historical maps often hold information retained by no other written source, such as place-names, boundaries, and physical features that have been modified or erased by modern development. Historical maps capture the attitudes of those who made them and represent worldviews of their time.
Geographic Information System (GIS) is an exciting new tool for history and geography educators that has been the focus of some recent research. If this is of interest you might begin your exploration of the benefits of using GIS by reading "Using GIS to Answer the 'Whys' of 'Where' in Social Studies" by Marsha Alibranadi and Herschel M. Sarnoff. In the article, the authors discuss not only the pedagogical and social benefits of using GIS, but also use real classroom examples to reflect on the challenges that the technology poses.
[. . . S]tudies might show how to develop map reading skills, but they rarely show how to interrogate the map as a document. . .
The most recent research on using maps to teach traditional geography that I could find was Ava L. McCall's "Promoting Critical Thinking and Inquiry through Maps in Elementary Classrooms" published in The Social Studies. The critical thinking that is promoted by this work is very similar to contextualized historical thinking. This is a key point. One of the difficulties in finding research on using maps in history education is that researchers often aren't looking for the dynamic recursive relationships between history and geography that are critical to both disciplines. For instance, studies might show how to develop map-reading skills, but they rarely show how to interrogate the map as a document as a means of determining why it was created and for whom, or how it helps us understand the past. There is very little research using this orientation to historical and geographical relationships.
Depending on your specific research interests, you may want to consult the following resources. You may not have access to all of the materials but if you see something of interest you can contact your librarian. Or you may try a trial membership. The large national database on educational research can be accessed here. Two journals (Theory and Research in Social Education and The History Teacher) devoted to history and social educational research can be accessed here and here. And finally, if you are interested in international research in geography education you may want to look at the Review of International Geographic Education Online or back issues of the journal Research in Geographic Education.
Good luck with your research and let us know if you discover anything.