North Carolina History+Technology
Question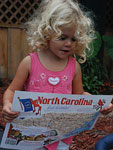 Can you recommend some websites for NC history? I am specifically looking for PowerPoints, Prezis, etc. I am new to teaching this subject and am trying to use as much tech as possible.
Answer
First of all I would like to applaud your decision to integrate technology into your instruction; both you and your students will benefit from this pedagogical approach to learning. Becoming familiar with how content is delivered online is a good first step. The website, Learn NC offers a digital textbook that covers a standard course of North Carolina history. From there, you can branch out into more sophisticated, specialized sites as you become more familiar and comfortable with curricular content. In regards to presentation software such as PowerPoint or Prezi, many textbook companies offer online supplemental or supporting materials such as those you've requested. You can also find out more about these tools at Teachinghistory.org's digital classroom feature. This entry on using Prezi in the classroom may be especially helpful.
What follows is a list of sites I've found to be particularly useful over the years, followed by a brief commentary on their contents:
Other sites worth mentioning for their compilations of useful teaching resources include:
Once you've developed a certain comfort level with the curriculum, I think you'll discover your own areas of content interest and not only expand beyond these recommendations, but also identify your favorite sites.