Picking Civics Textbooks
Question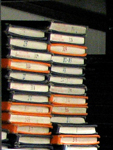 We are a new charter school in New Mexico. I have been tasked with ordering government textbooks. Do you have recommendations?
Answer
My first suggestion is that you look for outstanding curriculum, not just outstanding textbooks. I have seen most government textbooks gather dust on classroom shelves, while there is a host of interactive government curriculum that engages students in problem solving, group work, research, and exploration of major themes.
Quality Curriculum
One approach to curriculum adoption is to use the leading experiential programs to create your own curriculum, rather than use a textbook as its centerpiece. This is what I have done over 10 years teaching high school government, while my class set of Magruder's American Government textbooks stays mostly on the shelf. The programs I recommend below all actively involve students in collaborative learning, research, public speaking, deliberation, and other skills that good citizens must have. These programs have strong content but also require a level of activity that is absent in the traditional textbook approach to civic education. Most state civics standards are weighted heavily toward learning about the history and principles of the U.S. Constitution and the operation of our federal government. Most state standards also include learning about state and local government, citizen participation in government, foreign policy, and the government's role in the economy. I recommend the following project-based experiential curriculum to address each of those standards individually.
U.S. Constitution
[. . . T]here is a host of interactive government curriculum that engages students in problem solving, group work, research, and exploration of major themes.
The best curriculum for teaching the history and principles of the U.S. Constitution is We the People...the Citizen and the Constitution, published by the Center for Civic Education. Available at elementary, middle, and high school reading levels, this textbook presents the Constitution through its historical context and philosophical foundations rather than as a series of facts to be memorized. The culminating activity associated with the We the People curriculum is a simulated Congressional hearing, in which students grapple with big questions about our form of government and defend their answers before a panel of experts. See students answering questions at the national finals here. While Congressional funding for this and other civic education programs was recently eliminated, the curriculum is still available for purchase, and many states will continue to hold hearings and offer professional development. Contact your state coordinator to inquire about the We the People program in your area.
Foreign Policy
The CHOICES program at Brown University produces an outstanding and engaging unit for evaluating U.S. foreign policy alternatives. The U.S. Role in a Changing World consists of background readings, optional learning activities, and a culminating activity in which students simulate a U.S. Senate Committee Hearing and deliberate four alternative "futures" for the United States' role in the world. Also check out the other fine resources produced by CHOICES.
State and Local Government and Civic Participation
The Center for Civic Education also publishes the We the People...Project Citizen curriculum. Project Citizen is the leading program for getting students directly involved in state and local government. Far from a textbook, Project Citizen is a brief manual that students and teachers use to analyze public policy problems and propose realistic policy solutions. The culminating activity is a showcase in which students present their portfolios to a panel of experts and policymakers. Here is a video overview of Project Citizen.
Online Resources
Finally, I recommend supplementing your government curriculum with online resources. The following websites provide free interactive activities to enhance your teaching. Street Law hosts the Landmark Supreme Court Cases site, which provides resources for teaching about the most important cases through moot courts and other interactive strategies. Budget Hero is a fun way for students to understand the federal budget. The Center on Congress hosts interactive learning modules on the role of Congress. C-SPAN classroom provides "Timely Teachable Videos," "Constitution Clips," and lesson plans based on C-SPAN's deep well of video archives. IDEAlog presents an interactive approach to understanding political ideologies.
Textbooks
Among traditional high school government textbooks, Magruder's American Government is a good bet. This high school textbook presents a comprehensive explanation of every major topic that is addressed in a government class, including the Constitution, foreign policy, economics, local government, and comparative government. To help teachers differentiate instruction and provide accessible content to English language learners and students with special needs, Magruder's now offers a "Foundation Series" textbook. This book is designed for students reading at the 6th-grade level, yet it is aligned with the traditional high school reading level textbook. Magruder's also offers the "Experience It!" hands-on curriculum "for teachers looking for an experiential approach to American Government that focuses on simulations and online learning." Magruder's textbooks are not cheap, at about $85 per student edition, but if you want a traditional comprehensive government textbook as the core of your curriculum and have the budget to support it, it's a good place to start. Government Alive!, published by the Teachers' Curriculum Institute, provides a more interactive yet comprehensive approach to government. You can get a free trial and sample chapters on request. When reviewing textbooks I ask myself the following questions: Is it engaging for students to read? Does it address all the standards for my course? Is the reading differentiated for students below grade level? Does it fit in my budget?