Exploring Historical Fiction
Question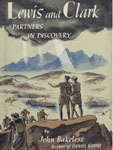 Do you have any suggestions for historical fiction that could be incorporated into our Language Arts classes on the topics of the Oregon Trail or Lewis and Clark? Currently we use Will Hobbs's Ghost Canoe to help reinforce teaching about Coastal Native Americans in the history classes.
Answer
Thanks for your inquiry. We often get requests for recommendations of historical fiction to use when studying particular time periods and historical events. So below, I first list some open-access digital databanks of fiction (and occasionally nonfiction) to use in the history/social studies classroom. Then I share some recommendations specific to your request.
Databases of Recommended Books
The National Council for the Social Studies' (NCSS) Notable Books lists are a great resource. Each year, a panel of educators and librarians read more than 200 books to select these "notable books." Lists from prior years can be downloaded for free and you can purchase the most recent list or access it for free with membership in NCSS. For each of these books, general reading levels and applicable NCSS standards are identified and a brief annotation gives an overview of content. OurStory, a project of the Smithsonian National Museum of American History, provides a useful bookfinder. Here you can search by general historical topic, age group, book type, and award. Searching this bookfinder for "19th century history" and "middle school" brings up 47 fiction and nonfiction books. Please note that it's not clear when this list was last updated as it does not include recent award winners. The American Library Association's yearly list of Notable Children's Books includes books suitable for children up to, and including, age 14. Books that win awards such as the Coretta Scott King Award and Newbery Medal are added to the list. (The ALA also has a page dedicated to book lists, but few specifically pertain to the history classroom.) The Reading and Writing Project at Teacher's College has generated a list of historical fiction using teachers' recommendations which can be accessed as a PDF here. This list just includes title, author, book type (i.e., picture or chapter) and level, but organizes the books by historical topic including a set of recommendations for "Westward Expansion and Prairie Life." PBS has a list of historical fiction for grades four and five, which can be accessed here. Some states provide lists of historical fiction and nonfiction. Search California's database using "Oregon" as keyword or "Lewis" as keyword and you will get more than 20 fiction and nonfiction books.
Specific Recommendations
All these online resources can help you find a book, but don't forget your local and school libraries and independent bookstores. Often children's librarians will have wonderful suggestions and your local bookseller may also have a quality selection of historical fiction. Indeed, Martha Dyer, librarian at Mission Hill Middle School in California, helped me compile the following recommendations. (One source she used that is not mentioned here is a database available at the local public library, "NoveList," produced by Ebscohost.) Here are some titles worth investigating: Across the Wide and Lonesome Prairie: The Oregon Trail Diary of Hattie Campbell (1997) by Kristiana Gregory. This is a quality selection from the Dear America series. My Travels with Capts. Lewis and Clark, by George Shannon (2004) by Kate McMullan. Seaman: The Dog Who Explored the West with Lewis & Clark (1999) by Gail Langer Karwoski. The Journal of Jedediah Barstow, an Emigrant on the Oregon Trail: Overland, 1845 (2002) by Ellen Levine. This is part of the My Name is America series. Thomas Jefferson: Letters from a Philadelphia Bookworm (2000) by Jennifer Armstrong. This is part of the Dear Mr. President series. The books below do not directly address the specific time period or event you ask about, but they could also be good choices as they are engaging and relevant.
Call of the Wild by Jack London (1903)
The Devil's Paintbox by Virginia McKernan (2010)
The Game of Silence by Louise Erdrich (2005)
The Journal of Wong Ming-Chung: a Chinese Miner, California, 1852 by Laurence Yep (2000)
And finally, consider one experienced middle school history teacher's response to your question: "I usually have my students reading excerpts from Lewis and Clark's journals. Some of those read like a fictional story at times!" Good luck!