At a Glance
Topics
The War of 1812 and the Star-Spangled Banner
Website
Features
Focus on historical thinking, Further resources for teaching this content, Inclusion of multiple perspectives, Opportunity to analyze causation
Duration
3 to 5 class periods
Grade(s)
3, 4, 5, 6, 7, 8
Download
Causation: The War of 1812 and the Star-Spangled Banner
In this lesson students explore the War of 1812 and learn about the historical background of the national anthem and the American flag.
Review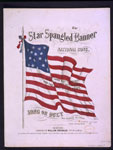 Noting that textbooks for grades 3 through 8 often exclude the War of 1812, the Smithsonian's History Explorer website designed this lesson to teach students about the origins and outcomes of this pivotal event in American history. This lesson also provides students with historical context for understanding one of the most popular and enduring texts in American history: "The Star-Spangled Banner," written by Francis Scott Key.
The strength of this lesson is that it provides a succinct, yet informative, narrative of the causes, course, and consequences of the War of 1812. This overview, which examines the origins of the national anthem, could be used as a basis for a lecture or directly given to students as a handout.
The discussion questions at the end of the narrative focus on the American and British motives for going to war and the importance of Washington, DC in the war. While these questions summarize important content, we recommend that teachers use the information from this lesson to help students analyze "The Star-Spangled Banner" as an historical text. For that purpose, the lesson contains several links to both background information and resources pertaining to both the anthem and the flag. (Note that this interactive feature also helps students understand the nature of historic preservation.)
This lesson provides such rich contextual information about the War of 1812 and about Francis Scott Key that we recommend modifying it and using it to inquire about the origins of "The Star-Spangled Banner" as it relates to the War of 1812.
Notes
Teachinghistory.org Lesson Plan Rubric
Field
Criteria
Comments
Historical Content
Is historically accurate?

Yes

Includes historical background?

Yes

The main resource is a background essay.
It is brief, informative, and lays the groundwork for sourcing and contextualizing "The Star-Spangled Banner."

Requires students to read and write?

Yes
Requires students to read. Writing activities could easily be developed to support this activity.

Analytic Thinking
Requires students to analyze or construct interpretations using evidence?

No
Not explicitly. But several of the extensions and recommended resources do require students to interpret sources. (For an example, see this link)

Requires close reading and attention to source information?

No
No, given that the main text is an authorless overview. But the available information can help students analyze "The Star-Spangled Banner."

Scaffolding
Is appropriate for stated audience?

Yes

Includes materials and strategies for scaffolding and supporting student thinking?

No

Lesson Structure
Includes assessment criteria and strategies that focus on historical understanding?

Yes
Discussion questions at the end ask students to consider multiple perspectives. However, no specific assessment criteria are included.

Defines clear learning goals and progresses logically?

No
Useful resources, but the lesson is mostly a narrative about the War of 1812.

Includes clear directions and is realistic in normal classroom settings?

Yes
The reading level and language is appropriate for young learners.