At a Glance
Teacher Review
Kevin Spritzer
lpr_spritzer2.mov
Play video
Topics
Japanese American Internment; World War II; Civil Rights
Website
Features
Focus on historical thinking, Further resources for teaching this content, Inclusion of multiple perspectives, Multiple Sources, Opportunity to analyze causation, Scaffolding of close analysis of text, Useful for differentiating instruction
Duration
1-6 class sessions (or longer)
Download
Civil Rights and Incarceration
Students analyze the consequences of the removal of Japanese Americans in the western United States to relocation centers during World War II.
Review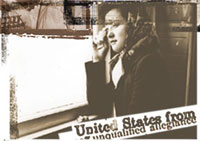 In this lesson students view and take notes on a 10-minute newsreel describing the evacuation and relocation of Japanese Americans from western states during World War II. Students analyze the movie using a handout. Questions focus students' attention on analyzing the government's case for the necessity of the incarceration. This newsreel activity and a set of introductory readings, pictures, and interviews make up the recommended core of the lesson. Most of the remaining eight activities, by contrast, illustrate the Japanese American perspective on the incarceration. Each activity is organized around a different type of primary source, including photographs, diaries, autobiographies, poetry, and theater. Classroom activities range from analyzing textual and visual sources to performing scripted dramatic readings. Some activities include potentially challenging reading material, but teachers can tailor the lesson to the needs of their students by choosing from the many options available. We think that teachers will appreciate the diversity, high quality, clear presentation, and emotional resonance of the materials provided by this lesson.
Notes
The Densho Project is part of the Japanese American Legacy Project which has an extensive archive of background information about the Japanese incarceration. This lesson is part of a three-week detailed curriculum on civil rights and Japanese Americans in the 20th century. Navigation through this site requires you to use navigation bars rather than return arrows. 
Teachinghistory.org Lesson Plan Rubric
Field
Criteria
Comments
Historical Content
Is historically accurate?

Yes Materials used in the lesson have been well researched. Content and materials on the Densho site are very thorough. Check out other resources and causes of incarceration.

Includes historical background?

Yes Students are required to study an introductory section, The Incarceration Years, before beginning film analysis.

Requires students to read and write?

Yes Newsreel activity requires students write a film review. Optional activities may include reading primary sources and offer additional writing assignments.

Analytic Thinking
Requires students to analyze or construct interpretations using evidence?

Yes Constructing interpretations and evidence-based judgments about the incarceration is central to most of the activities.

Requires close reading and attention to source information?

Yes Each activity is organized around a different type of source. Much of the lesson encourages students to think critically about what can be learned from different source materials.

Scaffolding
Is appropriate for stated audience?

Yes The basic newsreel and introductory activities would be appropriate for any high school class. Other activities range in difficulty, including some that would challenge Advanced Placement history students.

Includes materials and strategies for scaffolding and supporting student thinking?

Yes A variety of worksheets and suggested discussion questions are provided to scaffold student thinking.

Lesson Structure
Includes assessment criteria and strategies that focus on historical understanding?

No Not all activities include assessment strategies.

Defines clear learning goals and progresses logically?

Yes Learning objectives are explicitly stated.

Includes clear directions and is realistic in normal classroom settings?

Yes The lesson provides clear directions. Detailed advice on how to use the lesson in any classroom is provided on the site.