At a Glance
What is it?
Slideshare enables you to upload, download, and access Powerpoint, OpenOffice, or PDF presentations on the web.
Website
Slideshare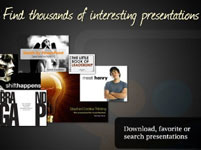 What is it?
Slideshare is a site for sharing presentations. It allows you and your students to upload (and download) Powerpoint, OpenOffice, or PDF presentations to the web, and to access and download the presentations of others. All that's required—besides the presentation, of course—is to open a free account.
Slideshare provides access to the work of others, and so it becomes an excellent networking or preliminary research resource. A privacy feature, however, also offers the option of limited access for work you'd rather limit to your own classroom or interest group. You can also share presentations via your blogs or websites.
Getting Started
The Slideshare Tour explains the many possibilities, including widgets for incorporating SlideShare in blogs or websites.
Examples
Want to know how others are teaching and learning about particular subjects? The Slideshare search function works much like YouTube. A search for web tools, for example, brings up presentations such as Using Social Media to Define the New Humanities, a how-to, Teaching with Flickr, and Teaching History with Technology. The search feature refers the user to similar presentations and to other presentations uploaded by the same author.