At a Glance
What is it?
Google Earth is a geo-mapping tool that makes use of a wide variety of imaging sources.
Website
Google Earth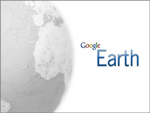 Google Earth uses images obtained from satellite imagery and aerial photography to map the Earth and compliment its Google Maps tool. Users with computers that run Windows XP (and above), Mac OS X 10.5 (and above), and Linux 4.0 (and above) can download the latest version of Google Earth to their desktops for free.
Google Earth's main benefit is its ability to put the world's geographic information in the reach of students and educators, allowing them to manipulate and create their own geography-based visuals to augment historical learning. In the Showcase section, history teachers can browse through products focusing on "U.S. Presidents" or "Historical Imagery" to familiarize themselves with Google Earth.
The Google Earth for Educators site also contains classroom activities that apply geographic concepts in order to better teach history, culture, literature, and other disciplinary areas—perfect for integrating history across many other curriculum areas. This section also provides tips and tricks for using Google Earth as a teaching tool and student work showcase, as well as ideas for how to integrate Google Earth into grant projects. Of particular note is the classroom resources section, which provides a basic overview of how Google Earth can be used by history students and teachers, as well as links to lesson plans. Additionally, teachers can use the forum to discuss with fellow teachers how to use Google Earth in innovative ways.
Getting Started
The first step is to install Google Earth on computers that will be used by students. Teachers should consult with the Instructional Technology specialist at school, or at the school district office, before trying to install Google Earth on school computers.
Examining New Orleans between 2005 to the present helps students understand the destruction of Hurricane Katrina and the recovery efforts that have helped the city prosper once again.
Once installed, it can be easy to become overwhelmed with all the tools available. The historical imagery tool is a good place to begin. Google provides simple and effective web tutorials for each tool, and the tutorial video for historical imagery will help users become familiar with what can they can learn by viewing cities and how they change over time. For example, satellite images of Washington DC, dating back to 1948, reveal the growth of the Smithsonian museums and the national monuments on the Mall. As mentioned in the tutorial video, images of Las Vegas from the last 60 years reveal the city's growth and can open up conversations about urban planning, 20th-century migration to the "Sun Belt," or even Las Vegas's history of gambling and organized crime in the post-Prohibition era. Examining New Orleans between 2005 and the present helps students understand the destruction of Hurricane Katrina and the recovery efforts that have helped the city prosper once again. Another useful feature to explore is the "layers" function. After selecting a location, expand the "layers" menu on the left panel to reveal 10 categories (borders & labels, places, photos, roads, 3D buildings, ocean, weather, gallery, global awareness, and more)—eight of which contain several subcategories. The "gallery" category, in particular, provides educators with a seemingly endless list of possibilities by taking advantage of the resources provided by National Geographic, NASA, New York Times, the Discovery network and many other partners. Displaying layers of streets, landmarks, and photos, for example, would help elementary social studies teachers enrich lessons about the community in the early grades. High school teachers can use these layers to examine military battlefields such as Gettysburg, or urban areas of historical interest such as New York post-9/11. Google Earth also allows users to create new placemarks, polygram shapes, and pathways, and to import images as an overlay. In addition to using the historical imagery tool, users can also select the day/night function to visualize locales at different times of day. Other functions found on the top row include viewing selections in Google Maps, emailing Google Earth images to other people, and printing visualizations. Teachers can use these tools to email students specific geographic visuals ahead of a particular lesson or to print Google Earth images for a handout or worksheet. Finally, the recorded tour feature is helpful for student presentations and projects. Students can prepare their tour by creating historical placemarks and pathways, as well as inserting historical images as overlays. Once all the pieces are in place, they can select the "record a tour" function from the top row of menus. Students can also select layers they would like to be visible, such as the name of roads or photos, and then zoom in to their desired view. At the bottom of the screen a record button will appear to begin recording. If students would like to provide a voice recording for an audio tour, a second button is also available (note: teachers should test any built-in or plug-in microphones beforehand). The "tour" tutorial is a must-see video before working with students on developing their own tour.
Examples
Although it has bot been updated for a few years, Google Earth Lessons has quite a list of ideas on how to use Google Earth and Google Maps in the classroom. One good use for the elementary classroom is to use Google Earth to map out a "Flat Stanley" project. This can be easily modified to a treasure hunt, "where's Waldo?", or other scavenger activities. Both Google Earth and Google Maps allow students to create place marks and pathways that can follow Stanley or Waldo in their travels.
Lesson plans can also make use of geo-mapping tools like Google Earth. In "Slavery, Exploitation, and Slave Trade Routes," a 5th-grade lesson plan guides students in analyzing the slave trade. It includes a structure for developing the final product in Google Maps. From this lesson, students can create an interactive map with placemarks for key areas in the Atlantic slave trade, as well as routes for slave ships and transportation of goods between Africa, Europe, and the Americas. By inserting images that illustrate slave ship conditions and sugar mills in the Caribbean, for example, students can make good use of the tools in Google Earth.
Teachers may want to explore both Google Earth and Google Maps in order to see what each tool offers. Because Google Earth is a bit more complex for younger students and requires installation on computers, teachers may choose to use Google Maps as an alternative tool if they are planning on using basic map functions in their lesson activities.
A gallery of Google Earth products is also available for teachers and students to view and use for brainstorming project ideas.