At a Glance
Description
Nearly 1,400 documents covering Southern life from the 18th to early 20th centuries.
Website
Producer
University of North Carolina, Chapel Hill, Libraries
Documenting the American South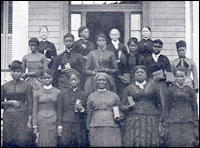 Nearly 1,400 documents address aspects of life in the South from the 18th, 19th, and early 20th centuries. The database features 10 major projects.
The First Century of the First State University presents materials on the beginnings of the University of North Carolina. Oral Histories of the American South offers 500 oral history interviews on the civil rights, environmental, industrial, and political history of the South. First-Person Narratives of the American South, 1860–1920 offers 140 diaries, autobiographies, memoirs, travel accounts, and ex-slave narratives. North American Slave Narratives furnishes about 250 texts.
The Library of Southern Literature makes available 51 titles in Southern literature. The Church in the Southern Black Community, Beginnings to 1920 traces the role of the church as a central institution in African American life in the South. The Southern Homefront, 1861–1865 documents non-military aspects of Southern life. The North Carolina Experience, Beginnings to 1940 provides close to 600 histories, descriptive accounts, institutional reports, works of fiction, images, oral histories, and songs.
North Carolinians and the Great War offers 170 documents on the effects of World War I and its legacy. Finally, True and Candid Compositions: The Lives and Writings of Antebellum Students at the University of North Carolina analyzes 121 documents written by students. All projects are accompanied by essays from the Encyclopedia of Southern Culture.