At a Glance
Description
Explore French Louisiana, Canada, and the Great Lakes region.
Producer
Library and Archives Canada, Direction des Archives de France
New France, New Horizons: On French Soil in America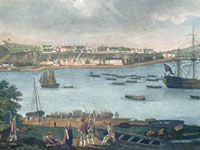 Designed to commemorate the 400th anniversary of the French landing in North America, this site is a collection of primary sources related to the French presence in what would later become Canada, the Great Lakes region, and Louisiana. Exhibition features 350 primary sources, including engravings, portraits, other artwork, as well as documents. They are organized by theme and are easy to find and view.
Database includes a database of more than 6,500 documents, including correspondence, reports, and maps. A special viewer allows visitors to zoom in and out of documents, making close viewing possible.
The collection is searchable by date, author, subject, or keyword. Visitors should keep in mind that although the site is written in English and French, the documents are written exclusively in French. The wealth of primary sources makes this a valuable resource for researchers, but language may prove a barrier for students and teachers.