At a Glance
Description
Discover connections between race and place in this archive documenting the effects of Jim Crow on a Virginia town.
Website
Producer
Virginia Center for Digital History and Carter G. Woodson Institute of African and Afro-American Studies
Race and Place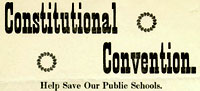 This archive addresses Jim Crow, or racial segregation, laws from the late 1880s until the mid-20th century, focusing on the town of Charlottesville, VA. The theme is the connection of race with place by understanding the lives of African Americans in the segregated South. Political materials includes seven political broadsides and a timeline of African American political activity in Charlottesville and Virginia. Census data includes searchable databases containing information about individual African Americans taken from the 1870 and 1910 Charlottesville census records. City records includes information on individual African Americans and African American businesses. Oral histories includes audio files from over 37 interviews. Personal papers contains indexes to the Benjamin F. Yancey family papers and the letters of Catherine Flanagan Coles. Newspapers, still in progress, includes more than 1,000 transcribed articles from or about Charlottesville or Albemarle from two major African American newspapers—the Charlottesville Recorder and the Richmond Planet. Images has links to two extensive image collections, the Holsinger Studio Collection and the Jackson Davis Collection of African American Educational Photographs, and three smaller collections.