At a Glance
Description
Discover the life of pragmatist and education reform advocate John Dewey (1859-1952).
Website
Center for Dewey Studies, Southern Illinois University at Carbondale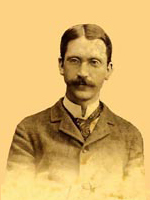 The creation of the Center for Dewey Studies, this site is devoted to the work of philosopher and educator John Dewey (1859-1952). It includes the tables of contents for each of the 37 volumes of The Collected Works of John Dewey; a chronology of Dewey's life and work, updated on a continuing basis with new information derived from his correspondence and other sources; a short annotated reading list; an extensive, updated bibliography of titles about Dewey; and information on editorial projects currently underway. The site also includes a short audio clip of Dewey reading an essay and links to the Southern Illinois University_s Morris Library's Special Collections site, where seven Dewey-related collections are housed. The Center for Dewey Studies was established in 1961 and has since "become the international focal point for research on Dewey's life and work."