At a Glance
Description
Explore World War II's color film footage.
The Perilous Fight: America's World War II in Color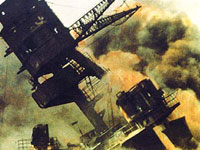 A complement to the four-hour PBS television series, this site presents unseen footage of World War II, the first war recorded primarily on color film. It brings the wartime experience of Americans on the battlefield and home front vividly to life through original color film clips and photographs. The site is divided into four main areas, including Battlefield, Psychology of War, the Home Front, and Social Aspects. Each section allows visitors to navigate through the different subtopics, read excerpts from diaries and letters, view nearly 250 photographs available for the first time, and watch rare color film clips of the period.
"Battlefield" includes homage to Pearl Harbor as well as film footage of covert American operations. "Psychology of War" contains a section entitled "The Atomic Option" that presents a video montage of images of an atomic bomb dropping on Nagasaki, Japan. Within this section, there is also a video of a Jewish Ghetto in Warsaw, Poland. "Homefront" includes five subsections, including censorship and migration. "Social Aspects" includes African Americans, Asians, Women, and Anti-Semitism. The footage of German American youth in New Jersey in the 1940s marching with fascist flags is very compelling. Visitors will also find an interactive timeline, essays on rediscovering the film footage, and a teaching guide for educators Those interested in this unforgettable period of history will find this site instructive.