At a Glance
Description
View more than 13,200 photographs of California labor and community life between 1921 and 1965.
Producer
Online Archive of California
The Eastman Project: Images of California Life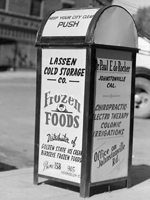 This extensive archive offers more than 13,200 photographs taken in California between 1921 and 1965 by Jervie Henry Eastman. The collection includes photographs, negatives, and postcards "for a wide variety of northern California locations and events, including dam construction, logging, mining, food processing, and community buildings and activities." Eastman established his photo studio in 1921.
Clicking on the thumbnail images brings up a larger version of the photograph with descriptive data. For some of the images it is necessary to select "more information about this image" to find the specific subject of the photograph. This selection also provides a subject cross-reference list. Search is by keyword only. The collection is of interest to those researching the history of northern California and those interested in urban history or historical geography.