At a Glance
Description
Where exactly were troops stationed in a given battle? Visualize the military campaigns, and imagine what the troops saw when they were able to initiate fighting.
Producer
American Memory, Library of Congress
Military Campaign Maps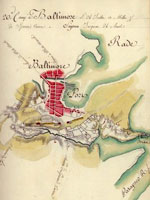 This collection offers more than 1,000 digitized maps that show troop movements, defensive structures, roads, campsites and local buildings, topography, and vegetation. They are invaluable in studying battles and military history. Divided into three sections, "The American Revolution and its Era" (390 maps), "Civil War Maps" (nearly 850 maps), and "Additional Military Battles and Campaigns" (31 maps), the site also includes maps of non-American battle sites (including Iraq and Afghanistan). The maps are not modern; they were drawn at the time of or just after the conflict they illustrate.
Maps open in separate browser windows, and users can zoom in and out of the maps or download high-quality versions. Visitors can search the collection by keyword, or can browse by subject, creator, geographic location, or title. The site includes a section illustrating the map digitizing process. The availability and ease of use of these primary sources make this site a tremendous resource for student, teachers, and historians, especially those interested in maps or military history.