At a Glance
Description
For story time or personal research, peruse historical children's books.
Producer
Guy Chocensky, Rosetta Project
Children's Books Online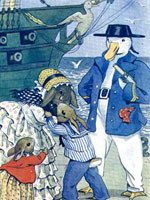 This website's library offers full versions of more than 700 classic children's books indexed by age/interest reading levels (pre-readers and very early readers, early readers, intermediate readers, advanced readers, and adult readers). Such classic tales as Jack and the Beanstalk, Mother Goose, Three Blind Mice, Tom Thumb, The Ugly Duckling, Peter Rabbit, Puss in Boots, The Little Old Woman Who Lived in a Shoe, Alice's Adventures in Wonderland, and Pinocchio are available on the site.
A number of the books are available in multiple languages. The site's Eye in the Ear section offers audio tracks accompanying select children's books. And its Super Index offers a full listing of the available stories, poems, rhymes, book chapters, and illustrations. For those researching children or children's literature, this site is a treasure trove.