At a Glance
Description
Brush up on your understanding of international relations with these interviews.
Producer
Harry Kreisler, Institute of International Studies, UC Berkeley
Conversations with History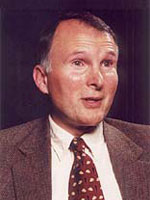 This is a collection of 107 transcribed interviews with "distinguished men and women from all over the world," about a wide range of topics. Harry Kreisler has been moderating this interview series since 1982 at the University of California at Berkeley. An additional 104 interviews are not available online.
Interviews are unedited and can be searched by interviewee, profession, topic, chronology, Berkeley faculty, and Berkeley alumni. The interviews may also be searched by keyword. Interviews are from three to 10 pages and address topics such as Africa, civil rights, Communism, ethics, free trade, human rights, and women's roles. Professions include education, diplomacy, law, journalism, psychiatry, history, policy making, and economics. Howard Zinn, Kofi Annan, and Robert MacNamara, among others, talk about everything from their own childhoods to global politics.
The "Research Galleries" present interview excerpts in text and video grouped around topics such as "China and the World," "Truth and Power," and "Women Role Models for the New Millenium." In some cases, the galleries include email conversations between interviewees, such as Alan Cranston, and high-school students. The site will be particularly useful for research in international relations.