At a Glance
Description
See Revolutionary War-era maps evolve from draft to completion.
Producer
American Memory, Library of Congress
The American Revolution and Its Era: Maps and Charts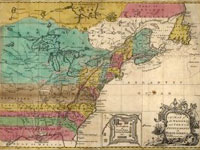 This American Memory site records the mapping of North America and the Caribbean from 1750 to 1789 through images of maps in the Geography and Map Division of the Library of Congress. Most items on the site are also included among the 2,000 images in Maps and Charts of North America and the West Indies, 1750-1789: A Guide to the Collections of the Library of Congress, compiled by John R. Sellers and Patricia Molen van Ee (1981).
Currently the site contains roughly 500 images. Maps and charts will be added to the online exhibit gradually. Selected images include original manuscript drawings by famous mapmakers like Samuel Holland, John Hills, and John Montresor; maps from the personal collections of men like Admiral Richard Howe and the Comte de Rochambeau; and large groups of maps by three major 18th-century London publishers: Thomas Jeffreys, William Faden, and Joseph Frederick Wallet des Barres.
The online collection allows visitors to compare editions, styles, and techniques of mapmakers from Great Britain, France, Germany, Spain, Holland, Italy, and the United States; and to follow the development of specific maps from the manuscript sketch to the finished, printed version. Each image is accompanied by descriptive notes (100–150 words) and a list of the medium, date and place of publication, condition, call number, and repository. The site also includes a 1,500-word essay on mapmaking during the American Revolutionary era and links to 12 other American Memory sites containing related materials.
Visitors can browse this site by geographic location, subject, creator, and title, and can search the site by keyword. This site is ideal for students and teachers interested in mapmaking in the 18th century and in exploring how maps helped to illustrate American culture.