At a Glance
Description
From telegrams to meeting notes, this site catalogs Cuban Missile Crisis documents.
Producer
Vincent Ferraro, Professor of International Politics, Mount Holyoke College
Documents Relating to American Foreign Policy during the Cuban Missile Crisis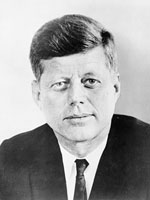 Vincent Ferrara, Professor of International Politics at Mount Holyoke College, compiled this list of 117 primary source documents relating to the Cuban Missile Crisis. Some of these are links to documents on other sites. Documents include memoranda, telegrams, meeting notes, and audio clips. The site also contains five links to other sites about the crisis and 12 articles written in the last 15 years that discuss the crisis.
The site provides no introduction, no index, and no background on the documents. It is not organized thematically, alphabetically, or chronologically. It will be helpful to those looking for the most important documents of the missile crisis and less so for those who are not already involved in researching the topic.