At a Glance
Description
Although painful to view, racist memorabilia reminds us of past mindsets and ethics.
Producer
Dr. David Pilgrim, Ferris State University
Jim Crow Museum of Racist Memorabilia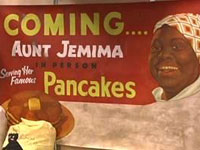 These materials come from a museum with approximately 4,000 pieces of racist memorabilia donated from Pilgrim's personal collection. Envisioned as an educational resource for scholars and students, this site contains most of the images within the museum collection, including sheet music, ashtrays, children's book covers, salt and pepper shakers, postcards, dolls, and matchbooks. The exhibit is divided thematically into 11 sections, including racist cartoons; Jezebel stereotypes; the tragic mulatto; and caricatures of the brute, picanninny, nigger, tom, mammy, coon, and golliwog. Each section includes a scholarly essay that provides historical context for the anti-black caricatures. For those interested in further research, the summaries (most between 2,000 and 4,000 words) offer extensive footnotes with primary, secondary, and online sources.
Of the 30 images within "The Brute Caricatures," users will find the covers of Charles Carrolls' The Negro a Beast, published in 1900, and D.W. Griffith's The Birth of a Nation of interest. There are 142 picanninny images, including Buckwheat and the cover of the children's book "Little Sambo." There are images of 50 "Uncle Tom," 87 "Mammy," and 90 "Jezebel" caricatures, both cinematic and commercial. More than 100 pictures and objects bear the appellation "nigger," and 118 19th- and early-20th-century racist cartoons (2 Quicktime and 2 RealMedia) are available. The exhibit includes a radio interview with Dr. Pilgrim, along with links to 13 scholarly essays and relevant newspaper articles. The site will be of special interest to those researching the history of racist memorabilia.