At a Glance
Description
Explore the history of American landscape and architectural design from 1850-1920.
Website
Producer
American Memory, Library of Congress
American Landscape and Architectural Design, 1850-1920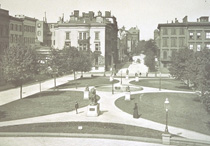 This Library of Congress American Memory site features more than 2800 lantern slides representing the work of American landscape and architectural designers from 1850 to 1920. The slides are drawn from the Frances Loeb Library, Graduate School of Design, Harvard University. Featured designers include Harvard Landscape and Architectural faculty members Frederick Law Olmsted, Jr., Bremer F. Pond, and James Sturgis Pray, as well as other American designers like Charles Downing Lay and M.S. Sayer. Images include views of cities, buildings, parks, estates, gardens, and houses throughout the country. Information on the location, source, collection, date, and repository of the original image accompanies each slide. Also included on the site are facsimiles of 275 building and garden plans, 219 maps, and eight models of various locations. Brief (roughly 500-word) essays and over 20 images outline the work of Charles Downing Lay, M.S. Sayer, and Frederick Law Olmsted. The site also offers a bibliography of 11 works related to photographs of architecture and landscape design; a 1000-word essay with 18 photographs of Harvard buildings from 1860 to 1905; and a 750-word essay on the history and manufacture of lantern slides. This site provides a variety of images for those interested in examining American architecture and landscape design in the late 19th and early 20th centuries.