At a Glance
Description
Link literature and history with activity sets for 18 books and a database of over 270 other books for young readers.
Website
Producer
Smithsonian National Museum of American History
OurStory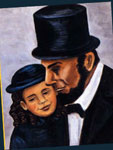 In partnership with the National Center for Family Literacy, the Smithsonian Institution's National Museum of American History shares its work in linking literature, history, and hands-on learning on this site. A spin-off of programs presented in the museum, OurStory highlights 18 notable children's fiction and nonfiction books, including Ken Mochizuki's Baseball Saved Us, Doreen Rappaport's Martin's Big Words, and Peter and Connie Roop's Keep the Lights Burning, Annie.
The site summarizes each book and offers parents and teachers a downloadable reading guide, including vocabulary; pre-, during, and post-reading activities; descriptions and images of Smithsonian artifacts related to the text or illustrations; and related NCHS History Standards. Downloadable activity guides, outlining activities such as making a Jailed for Freedom suffragist's pin or roleplaying contemporary debate on the March on Washington, also accompany each book summary.
Visitors may browse the featured books by time period, and the activity guides by activity type. In addition, visitors may search a database of 290 fiction and nonfiction books for young people by title, author, topic, age group, book type (fiction or nonfiction), and awards (Caldecott Medal, Newberry Medal, Coretta Scott King Award, Golden Kite Award, or Scott O'Dell Historical Fiction Award). Resulting entries are sparse, offering only a one-sentence summary and basic facts about the book, but teachers may still find the database useful if they're actively in search of tested titles for teaching U.S. history.
Finally, visitors can find basic suggestions on where to look locally for field trip destinations under "Field Trips."