At a Glance
Description
Ever wondered about the wartime experiences of Latinos and Latinas? VOCES seeks to help remedy the gap in U.S. popular historical narrative.
Website
Producer
University of Texas Libraries
VOCES Oral History Project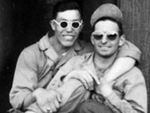 VOCES (Spanish for "voices") began as the project of a University of Texas professor of journalism. Rivas-Rodriguez sought to record the stories of Latinas and Latinos who served during World War II. However, since 2010 the archives have expanded in scope, with funding from the Institute of Museum and Library Services, to also include experiences from the Korean War and Vietnam War.
The majority of the interviews found on the site focus on veterans. However, civilian experiences are included as well. The "Stories" section can be browsed by name, war, city of birth, state of birth, and branch of service. A rather easy to overlook bar at the bottom of the page also permits you to find stories based on thematic content such as "citizenship" and "racism/discrimination." Each individual name is connected to a short narrative based on the individual's interview. These include direct quotations from the man or woman in question, but there is no transcript of the entire interview itself. You may also find photographs accompanying each story.
Maybe you would like your students to conduct similar interviews, particularly if no names are available from your home town. If so, be sure to visit "Learn to Interview." Here you can find a series of short videos describing the process of preparing for, conducting, and processing oral interviews. If you would like to provide an interview for the site, a downloadable PDF kit is available describing guidelines and containing the questionnaires used by the project.
Additional sections include "Resources" and "Publications." The former includes external links and an 85-page downloadable educator's guide, while the latter offers links to past VOCES newsletters and newspapers.