At a Glance
Description
Consider broaching local or women's history using a quilt as a gateway artifact.
Website
Producer
The Alliance for American Quilts | MATRIX: The Center for Humane Arts, Letters and Social Sciences Online at Michigan State University | Michigan State University Museum
Quilt Index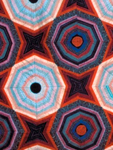 The Quilt Index gathers together images of quilts from historical societies and other institutions, as well as individual quilters, and information on both quilts themselves and the culture and skills of quilting.
The site search lets you specify details including the contributing institution, state and time period in which the piece was made, dominant colors, cultural or ethnic provenance of a quilt, or fabric type. The wide variety of options can make an initial glance at the search page intimidating, but it effectively allows a user to browse the collection according to his or her interests. Quilters may be more interested in pattern or fabric type, whereas history educators may wish to find local quilts from time periods past.
Additional subpages under the "Search" tab offer access to a number of quilting journals from the '70s through '90s, a means of searching ephemera (sketches, swatch collections, and more), and a lesson plan search feature. Searching for history lesson plans results in four hits as of January 30th, 2012 (Appalachian culture, interviewing a quilter, reading a quilt as a historical document, and quilt symbolism). Note that this, rather than the "Lesson Plans" tab, is the easiest way to reach lesson plans intended to be used in history curriculum.
Also worth exploring are essays and galleries. The latter consists of collections of quilts arranged by themes. Example themes include quilts and human rights, Texan quilts, and Amish quilts. In contrast, essays is text heavy. Here, site visitors can find text commentary on cultural significance, historical quilting, or regional or historical quilt characteristics, for example, as well as quilt-related poetry.