At a Glance
Description
Dwight D. Eisenhower's life and career in pivotal moments, including a timeline and lesson plans
Website
Producer
Eisenhower Memorial Commission
Eisenhower Memorial Commission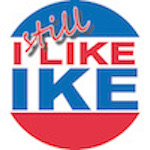 The Eisenhower Memorial Commission website explores Dwight D. Eisenhower's life with an emphasis on his military and presidential achievements. As part of the site's educational mission, significant events in Eisenhower's life are explored through seven Pivotal Moments: West Point, D-Day, NATO, Winning the Presidency, Waging Peace, Little Rock, and Space Race. Primary and secondary sources include text, photographs and videos.
An interactive timeline connects the viewer with key events in Eisenhower's life and in world history during his lifetime. His life spanned an era of great change – from the closing of the Western frontier to the opening of another frontier – outer space. The timeline contextualizes Eisenhower's achievements within national and world events.
Of particular interest to middle and high school teachers are curriculum units based on these seven pivotal moments. Teachers can download the freely available lesson plans for classroom use.
In "D-Day: Advising Eisenhower," for example, students explore the complexity of preparing for a massive invasion by acting as advisors to General Eisenhower. They provide him with vital information about geography, weather, German air capabilities, and French Resistance support in the region.
In "The 1952 Election: A New Kind of Campaign," students learn how the introduction of television changed the way presidential campaigns were run and develop a media strategy for Eisenhower on one campaign issue.