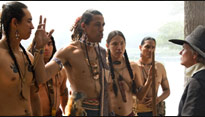 Sun 12 2009
The five-episode PBS series We Shall Remain begins tonight. Check local listings for broadcast times of this American Experience documentary.
Teaching Guides and Lesson Plans are now available on the rich, interactive, and immersive series website. Teaching Guides are defined by episode, and each includes discussion questions, student activities, additional resources, and lists of relevant themes corresponding to those developed by the National Council for the Social Studies Curriculum Standards and common state social studies standards.
But don't stop there. Explore supplementary video resources including discussions of language, sovereignty, and enterprise included under the Native Now section.
Elsewhere, on PBS Teachers, guest author, educator Eric Langhorst discusses the program and tackles the question, How do you teach Native American history and culture in the context of an American history class?