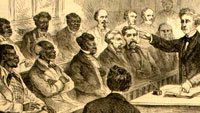 Wed 5 2009
The After Slavery Project, a transatlantic research collaboration directed from Queen's University Belfast, launched its Online Classroom, ­a set of 10 online units that explore the aftermath of emancipation in the Carolinas. Organized thematically, the teaching units cover a range of topics, richly illustrated with an array of primary source materials from dozens of archival collections.
The unit Freed Slaves Mobilize, for example, includes a background essay, transcriptions of nine primary source documents and illustrations, questions related to each document, and suggestions for further reading.
After Slavery emphasizes the variety of African American experiences after the Civil War.
After Slavery addresses emancipation both as an attempt by African Americans to overcome the racial legacies that attended and outlived slavery and as a profoundly important chapter in the history of America's working people. One aspect of this story that has become clearer in recent years is the variety of experience among former slaves across the South. These variations make it necessary to move away from broad generalizations about 'the' African American experience after the Civil War and to try to uncover both the shared elements in black life across the region and the varying capacity of freedpeople to mobilize. This emphasis on the "multiple configurations of freedom" across the post-emancipation South provides the rationale for the project's focus on North and South Carolina: together these states reflect the productive, demographic, political, and geographic diversity of the region as a whole.
EDSITEment
EDSITEment posts new materials this month from 19th-century historical writing to material culture to fiction. New resources include a feature on teaching Alexis de Tocqueville's Introduction to Democracy in America, and new lessons on Thomas Hart Benton's painting The Sources of Country Music, and Ernest Hemingway's short story Three Shots.