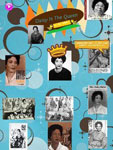 ,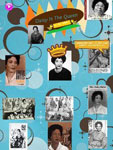 ,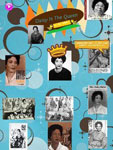 ,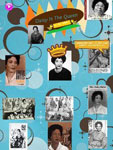 ,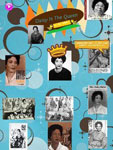 ,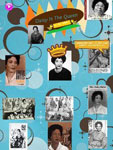 Mon 4 2011
This school year, each of my classes chose a person to represent them and become their class name. Instead of having blocks 3 and 4 or periods 6 and 7, I've had my Alice Paul and Daisy Bates classes on A Day and Dorie Miller and Rosie the Riveter on B Day.
At the beginning of the year, I gave my students the task of reading a biography in small groups.
I chose historical figures in U.S. history, some well known and others lesser known to them, and created biographies no longer than a page, by cutting and pasting from credible websites or by using biographies from History Makers (published by Rada Press). After each group read their biography, they summarized what their person did and why they are in the history books. They then presented their findings to the class, as well as what characteristics their person possessed that would make them a great name to adopt for the class. Students cited such qualities as perseverance, tenacity, and strength. After the class heard all of the biographies, they voted on which name they wanted to adopt.
During the course of the year, I made sure each class had an activity outside of the curriculum that connected with their class name. Alice Paul, named after one of the founders of the National Women's Party, had a museum educator from the Sewall-Belmont House come in and speak about Paul. We then walked to the house and saw just how close the National Women's Party headquarters are to our school!
Dorie Miller, who had taken the name of the first African American to receive the Navy Cross, had a museum educator from the National Portrait Gallery come to our class to share World War II posters, with an emphasis on the Dorie Miller poster. She created a lesson that had students then write their own historic labels, like you would find in a museum, for the poster. Rosie the Riveter visited the Smithsonian National Museum of American History's "The Price of Freedom: Americans at War" exhibit and had a tour, emphasizing Rosie! The kids even practiced riveting! Daisy Bates, who had taken the name of the civil rights activist, traveled to the National Museum of American History in February and heard from veteran Freedom Riders. While there wasn't a direct connection to Daisy, they heard from civil rights leaders who fought alongside of Daisy Bates.
Memorializing History with Glogs
I've decided that I will definitely continue this for next year's classes, but that I could never have another Dorie, Daisy, Alice, or Rosie class. So, my last assignment for each class this year was for them to create glogs memorializing their class names. Students worked individually or in pairs to create a glog.
The class then voted on which glog was the best. I will print the final, winning glog for each class in poster form and hang it in my room to teach future classes with and to remind me of the legacy of these classes.
What is a Glog?
But what's a glog? This is a question that my students had.
At first, they thought I said they were creating a blog—like a blog entry—since they were used to doing that. I clarified and enunciated the word "glog" again. There were confused looks.
A glog, as I explained to my students, is a multimedia poster, created on the computer. On a glog you can add text, photos, videos, music, audio recordings, documents—you name it!
One of the first things we did was find a Plan B. Glogster, a glog creation tool and community, is blocked by my school district. Having explored Glogster at home, I did know that they have a teacher's address. I directed my students to edu.glogster.com and had them create accounts as "Basic" members (it's free!). The students were soon underway!
Students were to create posters about their class name, and incorporate photos, a quote about or from their person, a brief summary of what their person did, and at least one multimedia clip (a video or music).
When the students were done with their posters, they published them and then emailed me their blog with the "email friends" feature. I did this activity over two days. The second day, I was much more clear about my expectations for inclusion of elements on the glog, and they turned out much better, content-wise, for more groups. I think it was helpful for students to have to think about the various elements to incorporate and served as a review of primary sources for them.
The Impact of Glogs
I can definitely say that this was a hit among the students. They really enjoyed learning about the new technology and many said they were going to go home and play with it. They became engrossed in looking for sources that others wouldn't find so that their posters would be unique.
The technology was very intuitive for the students, and I learned a lot from watching them. While I had spent time learning how to glog myself, I watched my students just fly with it! Before I knew it, they were asking each other questions about how to add something or asking their friends to look at what they did on their screens. They clearly were enthusiastic for not only their class name, but for creatively sharing the history of their person through their glogs for future classes.
Evelyn MacPherson, one member of the two-person winning Alice Paul glog team, said the following about making her glog:
I enjoyed making the poster, it was a lot of fun to create something that could be used as a learning tool that required you to use creativity. We knew that you had to balance out the facts with things that would draw people to your poster, such as a theme, or pictures. It required some trial and error, but it was a lot of fun.
I really enjoyed this activity and hope to use glogs more in the future. Glogster was easy to use, and this activity required critical thinking skills from my students and integrated technology and history in an engaging way for them . . . and me!