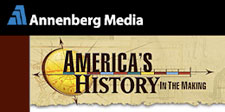 Tue 1 2009
A recent NHEC Blog entry brought up the topic of online textbooks for students. But how about an information-laden U.S. history textbook for teachers full of primary sources and multimedia presentations?
Annenberg Media and a consortium of educational agencies have developed such a resource, America's History in the Making, for middle and high school teachers of history, social studies, and related classes. It's intended as a professional development tool to deepen educators' knowledge of American history.
Why is it useful?
America's History in the Making is a thematically-organized approach to 800 years of American history, providing content and teaching methods for classroom use and integrating video, text, classroom activities, and web-based interactive activities. The content, according to Annenberg's explanation of the course, reflects ". . . a diversity of characters, personas, and geographies, with the goal of providing a broad and accurate account of the history of the United States from pre-contact through present day."
Twenty-two units comprise the course. Sixteen half-hour videos segmented into overviews of an era, biographical capsules, and historiographic discussion supplement various units, and content units each cover an era of American history from pre-Columbian America through the present day. Chapters are available as downloadable PDFs, a timeline contextualizes the events of each era, and a chart demonstrates linkages to individual state standards.
Start at About the Course for an explanation of course goals, content, materials, and organization. Then, before moving into content, check out How to Use This Site which further explains structure and resources.