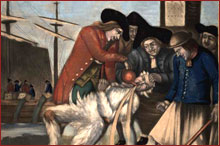 Tue 22 2009
The quarterly journal of The Gilder Lehrman Institute of American History, History Now, is always excellent, and the issue focusing on the American Revolution is no exception.
What's there? An in-depth ideological and historiographic look at the Revolution and materials to help teach about the era—including, but not limited to the following:
Three short original documentaries, featuring historian Carol Berkin and produced by NBC Learn, explore Thomas Paine, Women in America, and the Articles of Confederation.
Lesson plans From the Teacher's Desk include units on Revolutionary Propaganda for high school; Colonists Divided: a Revolution and a Civil War for middle school; and a look at The Boston Massacre for elementary school students.
Isaac Kramnick and Woody Holton are among the scholars who offer in-depth background essays on aspects of the Revolution and the era under Historian's Perspective.