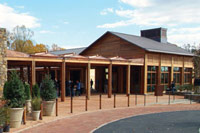 Mon 13 2009
Monticello, the home of Thomas Jefferson, officially opens a new visitor center on April 15. The Visitor Center billed as the 21st-century gateway to Thomas Jefferson's Monticello, offers hands-on, thought-provoking, interactive views and experiences of the artifacts and ideas that help define Jefferson and his times.
A New York Times museum review, Jefferson's Blind Spots and Ideals, in Brick and Mortar, emphasizes that the overwhelming sweep of the new exhibits serves, in part, to highlight the diversity, tension, and contradictions of Jefferson's genius and the effect of that genius on his personal life and his vision for the nation.
As Washington Post columnist Anne Applebaum points out, the exhibitions and a discovery room reflect changes in how we talk about and present history. "Nowadays, hagiography is Out. Historical reconstruction is In. Silent contemplation of the great man's possessions is also Out. Recent scholarship about those possessions is firmly In. Interactive games and objects are In, too."
Monticello pioneered the movement to increase online, public access to historical resources.
And if you live too far away to visit? Monticello has pioneered the movement to increase online, public access to historic collections, archives, and resources. The superb Monticello website offers The Monticello Classroom with sections for kids and for teachers, access to Resource Packets (K–12), and a wealth of essays, podcasts, and research resources. The online Press Room offers video clips and images of the new center as well.
And at Jefferson Today, scholars, public figures, and the general public can debate and interpret Thomas Jefferson's ideas and present-day events. Read, for example, how Jefferson dealt with pirates off the coast of Africa, see an image and transcription of Jefferson's 1801 address to Congress addressing the problem, and link to commentary from the Library of Congress.
Monticello has also joined other public history venues on Facebook where an active membership shares events, comments, photos, and all things Jeffersonian.
On YouTube, the Monticello Channel includes a nine-and-a-half-minute video narrated by historian David McCullough and a series of clips of a lecture by Annette Gordon-Reed discussing the process of researching and writing The Hemingses of Monticello: An American Family.