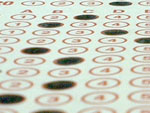 Sun 19 2010
Teachinghistory.org's weekly history quizzes have returned! Ellen of New York won our first quiz of 2010–2011, with the most correct answers to questions on school buses, PBJs, pencils, and other school standbys. This week, test your knowledge of early North American artifacts.
Each of our weekly quizzes gives you the opportunity to test your knowledge on a different U.S. history topic—and the chance to win a prize! If you're one of the top-scoring entrants, your name will be entered in the week's drawing. The entrant chosen at random receives a Teachinghistory.org flash drive.
Maybe you've taken a quiz and think your students might benefit from taking it, too. Browse through all of our past quizzes, and download a PDF for classroom use or have your students take the quiz online! Our past quizzes are now live online—take them, and receive your score instantly, with corrections for any answers you missed.
Topics for past quizzes range from Martin Luther King, Jr. memorials to pirates to women in the West. Keep your eye out this year for quizzes on the Stamp Act, the Crash of 1929, spies, and more. Also be on the lookout for new types of quizzes! Later this year, we will add new interactivity to the quizzes. Keep your eyes open!