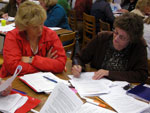 ,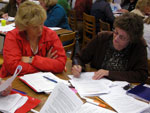 Sun 14 2010
Is professional development on your schedule for next summer? It may seem early to start planning, but many summer programs will soon (or have already) opened their applications. And professional development opportunities aren't limited to the summer! Organizations offer workshops, seminars, and other chances to network, expand your teaching repertoire, and earn professional credits throughout the year.
Where Should I Look?
Where might you look for these opportunities? You don't have to look far afield—museums, historic sites, national parks, and historical societies in your area may offer professional development. Search a museum's website for its "Education" or "Teachers" section, and take a look. Does it offer programs for educators?
Large museums often provide a schedule of open houses (check for these in the fall), workshops, and pre-field trip orientations just for educators (see the Chicago History Museum Educator Programs page or the U.S. Holocaust Memorial Museum online catalogue of professional development opportunities.
Not finding anything?
Maybe you have a presidential library and museum nearby, providing educators with workshops on using archival resources. Or a local university that offers professional development courses for teachers (such as the Learn NC program at the University of North Carolina at Chapel Hill).
Professional development opportunities may also spring up in unexpected places, in response to events and celebrations. Abraham Lincoln's Bicentennial in 2009 prompted Lincoln-related workshops, conferences, seminars, and other training opportunities nationwide.
What Should I Know?
Once you've found something that interests you, make sure to check all of the specifics. You may be guaranteed a spot just by applying, or you may have to compete to participate. Enrollment may be limited to teachers in a certain area or those who teach specific grades. Some opportunities are free, some give out stipends, some cost, and others charge but offer scholarships.
Will you earn professional development credits for attending? How many? Could you earn graduate credit? (Or even a full master's degree? Check out the James Madison Fellowship Foundation designed specifically for teachers).
Examples of Professional Development
The following organizations provide professional development on a regular basis:
Gilder Lehrman Institute of American History — weeklong summer seminars for teachers, yearly, hosted by universities across the U.S. Attendees receive a stipend. Applications for summer 2011 are now open!
National Endowment for the Humanities — Summer Seminars and Institutes for School Teachers, and Landmarks of American History and Culture Workshops for School Teachers, both yearly. Summer Seminars and Institutes range from 2–6 weeks, and do not all focus on U.S. history topics. History and Culture Workshops last one week and focus on specific U.S. history landmark sites. Both provide a stipend.
Facing History and Ourselves — workshops and in-person and online seminars throughout the year. Focuses on human rights and social action topics, including the Holocaust and the Civil Rights Movement. Some workshops are free; other programs charge fees.
Colonial Williamsburg — week-long institutes for elementary, middle/high, and high teachers, yearly, at Colonial Williamsburg. Charges fees.
National Archives and Records Administrations — "Primarily Teaching" workshops, yearly, introducing techniques for using archive resources and teaching with documents. Small fee for materials.
Smithsonian American Art Museum — annual Clarice Smith National Teacher Institute, for teams of middle or high school teachers, with priority given to those teaching social studies and English/language arts. Participants learn how to use art and 21st-century skills to make interdisciplinary connections with their subjects. $200 registration fee; $500 scholarships available.
Federal Judicial Center and American Bar Association — yearly week-long Federal Trials and Great Debates in U.S. History institute for secondary U.S. history and government teachers. Provides reimbursement for travel, lodging, and meal expenses.
The Memorial Library and Holocaust Educators Network — 12-day summer seminar for middle through high teachers, on teaching the Holocaust and social justice issues. $1,000 stipend.
United States Holocaust Memorial Museum — yearly teacher fellowship for 7–12-grade teachers, including a five-day teacher institute. Expenses paid for institute attendence.
National Humanities Center — hour-and-a-half long online seminars, including tie-ins with PBS American Experience documentaries. Charges fees.
C-SPAN — two-day conference for 6th–12th-grade social studies educators or media/technology specialists, on integrating C-SPAN's resources into the classroom. Also offers a four-week Teacher Fellowship program. Expenses paid.
Dirksen Center — Congress in the Classroom, a four-day workshop for middle- or high-school teachers, on both pedagogical strategies and content for teaching about Congress. Charges registration fee; other expenses paid.