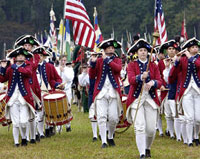 Wed 1 2009
July 4 wasn't always, well, the Fourth of July—at least as we think of it today in America. In fact, July 4 wasn't even the day of the signing of the Declaration of Independence—even though Thomas Jefferson, John Adams, and Benjamin Franklin insisted it was.
Nobody actually proved them wrong until 1884 when a librarian of the Boston Public Library consulted original manuscript minutes of the journals of Congress preserved in the Department of State. In the intervening century, July 4th celebrations became an established feature of public life and served, in part, to interpret and define local and national (and partisan) political culture.
Download podcasts talking about the history and celebration of the Fourth of July.
Listen to podcasts about the evolution of the Fourth of July as you head out this weekend. Backstory with the American History Guys—Professors Peter Onuf, Ed Ayers, and Brian Balogh—hold a lively discussion on the evolution of July 4. Pauline Maier looks at changing meanings of the Declaration of Independence, and James Hientze looks at early celebrations of the day.
Backstory also directs visitors to further excellent resources, including Frederick Douglass's 1852 speech, The Meaning of the fourth of July for the Negro, National Archives resources on the Declaration of Independence, and History News Network's Top Five Myths About the Fourth of July.