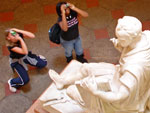 ,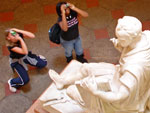 ,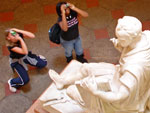 ,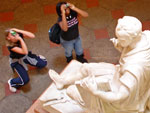 ,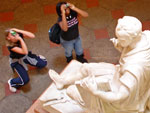 Thu 24 2011
As you browse the Internet for sources, searching for photographs of this event or that monument, do you ever get frustrated by the ins and outs of copyright law? In most situations, it won't be an issue—images you choose to use won't go beyond your classroom and it's unlikely your students will question your adherence to the rules of fair use.
But what if you or your students are working on something that will travel beyond your classroom? Maybe your students are creating short digital documentaries, and you want to host the finished projects on a website—or even upload them to YouTube? Maybe you want students to create small websites themselves, or produce other types of presentations that will be shared with the public online?
Now you're talking distribution, and stakes go up a little. Before you get deep into the project, you may want to take the time to orient your students to copyright and public domain. Even if you doubt your students' work will draw a large audience or generate any rights challenges, consider this a teachable moment. In a world of easy downloading, it's possible your students have never thought about the complicated web of laws that surrounds every image they encounter every day.
A First Look at Copyright Law
A good place to start is Tales from the Public Domain: BOUND BY LAW?, a comic book created by Keith Aoki, James Boyle, and Jennifer Jenkins for the Duke Center for the Study of the Public Domain. In this good-natured tour of copyright law, the main character, Akiko, just wants to make a documentary about a day in the life of New York City. What challenges will she face, and does she have the right to use the images she captures? Remember that this comic came out in 2006, and copyright laws are constantly changing!
After this orientation to thinking about copyright, ask your students to consider places they might find images. Take a look around some of the major online public archives, like the Library of Congress Prints and Photographs Collection or the National Archives and Research Administration's ARC.
Have students search for topics both historical and contemporary, and see what the entries for the images they turn up say about copyright. "No known restrictions on publication?" "Unrestricted?" Images created before 1923 should be in the public domain, free of copyright restrictions, as should images created by government organizations. More recent sources may note copyright restrictions, including specific caveats about how a source may be reproduced.
More Stops on a Copyright Tour
Compare the copyright notices on the Library of Congress and NARA's sites to those on sites that make copyright restriction on their images clear, such as the National Geographic Photo Collection or Getty Images. Are these sites archives in the same way the Library of Congress and NARA's collections are? What information do they provide about their images? What seems to be their purpose in providing the images?
Another informative stop might be Yahoo's Flickr. Type any word in the search box and you'll come up with thousands of images taken by photographers worldwide, from amateurs to professionals. Looking for a modern-day image of a historic site to contrast with a historical image? A picture of a monument or memorial, a museum or a work of art? Chances are, you'll find it here. But the social nature of the site doesn't mean copyright doesn't apply to these images! Check out the license information in the right-hand column. Are all rights reserved? Or does the photo have a Creative Commons license? (Flickr's Advanced Search lets you search just for Creative Commons-licensed images.)
Contributing to History
After all of this, are you or your students still having a difficult time finding a usable image of something or somewhere? Maybe you need a picture of the casters on the back of the main statue on the FDR Memorial in Washington, DC, or a photo of the interior of the Old Stone House at the Manassas National Battlefield Park. Many people have worked to fill in gaps in the documentation of our history and the world around us, today and in the past. For instance, during the New Deal, photographers for the Farm Security Administration and Office of War Information took thousands of photographs of people and places all across the U.S.—government creations that were (and still are) largely in the public domain. Today, individuals like photographer Carol Highsmith donate their photographs to the public domain. Inspired by Frances Benjamin Johnston, an early female photographer who gave many of her photographs to the Library of Congress, Highwater plans to spend more than a decade travelling the U.S., taking photographs that she will give to the Library of Congress as public-domain donations.
Now that your students understand how tricky it may be to find sources that can be freely used to tell the story of history, they're in a position to help out, themselves! What historic sites or other traces of history exist in your local area? Are there Creative Commons-licensed images of these on, say, Flickr? If not, how about collecting some? Students can help fill in the gaps in our public record of place and time, and add to the resources available to students like themselves.
For more information
For more on copyright, check out Teachinghistory.org director Kelly Schrum's answer to an Ask a Digital Historian question on fair use.