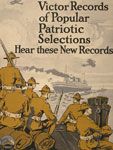 Fri 1 2011
You don't have to look far to see how important music is to modern American life. Young people (as well as adults) talk about music, listen to music, download music, remix music, share music, and define themselves by music. In classrooms across the country, MP3 players and pop-tune ringtones give students' musical tastes away (and get them in trouble). But has music always been this personal, portable, and repeatable?
Ask your students to think back. Do they remember a time when music wasn't something you could own? When they, someone in their family, or someone they knew didn't have an MP3 player—or a CD, tape, or record player?
Before the birth of the recording industry, you could buy sheet music and learn how to perform musical pieces for yourself—but that was it. An individual performance was ephemeral, literally once in a lifetime.
When the recording industry took off, music became an object. Now you could buy and trade moments in musical time, preserved forever. You could listen to artists who lived far away from you, whom you might never see live. You could listen to your favorite performances again and again. You could even sell music, without having to worry about arranging performances. One song sung once by one artist could earn money for months or years to come. Sound become solid, something that could be passed from hand to hand—and preserved.
Exploring the Jukebox
Sound become solid, something that could be passed from hand to hand—and preserved.
On May 10, 2011, the Library of Congress launched its National Jukebox, an online archive of more than 10,000 recordings from 1901–1925. According to the website, Library of Congress staff worked throughout 2010 to digitize this massive collection of Victor Talking Machine Company recordings (Victor, now RCA, is one of the oldest record companies in existence, according to the Library of Congress's blog entry announcing the launch of the Jukebox).
You can browse the recordings by vocal artist, composer, lyricist, language, place or date of recording, target audience, label, category, or genre. And if you find some music you'd like to remember? Add it to your playlist in the site's pop-up player. Now you can listen to it while you browse other sites, email it to yourself to listen to later, or share it with others on social media sites or by embedding it in a blog or website.
Students and the Jukebox
While exploring the Jukebox is entertaining in its own right—I just spent two minutes listening to humorous singer Burt Shepard trying to lure a lost cat home—it also makes invaluable primary sources easily accessible.
Teaching about the rise of ragtime and jazz? Make a playlist of famous (and less famous) songs and artists and share it with your students.
How about the invention of the airplane? The Haydn Quartet's "Up in My Aeroplane" can give students an idea of the romance and novelty of flight six years after the Wright Brothers' first successful test run.
World War I? "Hooray, the war is over!" sings Harry Lauder in 1918; months earlier, baritone Reinald Werrenrath remembered the U.S.'s debt to Lafayette and to embattled France.
Pick a time period, a genre, an artist, a word—and go looking! There's something in this storehouse to accompany almost any topic from 1901–1925, if you look hard enough. Use the recordings to grab your students' attention—or ask them to analyze or compare music and lyrics. What do the words (if you choose a vocal piece) say? What emotions does the piece seem to seek to evoke? When was it recorded? Where? Who audience did the composer, artist, or publisher have in mind?
Finding music by topic can be difficult, as none of the pieces have transcriptions, but a little creative searching should leave you with at least a handful of catchy new sources to play with. Watch for more to come—the Library of Congress adds new content monthly, and it hopes to provide content from other Sony labels, such as Columbia and Okeh, in the future.