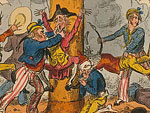 Tue 31 2012
How much do your students know about the War of 1812? Why was the war fought? Where did the battles take place? Who won? This year marks the bicentennial of this often-overlooked war, which helped shape the identities and boundaries of North American nations in the early years of U.S. independence from Great Britain. To commemorate the bicentennial and raise awareness of this period in U.S. (and Canadian) history, organizations across the country (and across the northern border) are creating teaching resources and planning events for 2012.
Interested in exploring maritime history with your students? The fledgling U.S. Navy played an important role in this war. Visit Ourflagwasstillthere.org, the official U.S. Navy hub for bicentennial events and resources. This website storehouses links to War of 1812 materials across the Internet, including performances of "The Star-Spangled Banner," essays on historical subjects, videos, archeology updates, educational resources, and more. Don't forget to check the dates when tall ships will visit 12 cities pivotal to the war. Will the ships sail anywhere near you?
While you may not be on the Navy's route, you may still teach near historic sites related to the War of 1812. Take a look! Many such sites have commemorative and educational events planned, and some offer online educational resources, as well. Here are some examples:
Don't limit your search for resources to the U.S.! Online, you can find resources created by Canada for the bicentennial as well. How do the stories and viewpoints in these resources differ from those in resources created by organizations in the U.S.? Visit 1812, a bi-national U.S./Canadian effort, lists historic sites related to the War of 1812 and provides a starting point for exploring Canadian historic sites and resources. For instance, the bicentennial website of Amherstburg, Ontario, features an essay on the War of 1812, as well as an interactive map describing historic points in the town.