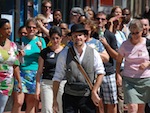 Thu 19 2012
Planning a teacher professional development experience this summer that will take your teachers on the road and outside of the classroom? Whether you are going across town to a local museum or across the country to visit a number of sites, be sure to check out Teachinghistory.org's new professional development planning guide, Visiting History.
Designed to help professional development coordinators plan a successful trip to a museum, library, or historic site, the guide opens with a video that poses the question: What is good professional development?
From there, explore the guide's three sections:
Plan: Preparing a visit that balances content and strategies
Experience: Creating a learning experience that meets the group's needs
Reflect: How to make the experience impactful back at school
Within each section, start by watching a video that lays out the key things to keep in mind during each step of the process. Or dive right into the content where you will find expert tips on what works when planning a professional development trip, learn strategies for engaging your group throughout the process, and get ideas for how to connect the trip back to the classroom. You can even download the guide's planning checklist to help keep you organized and on track!
The guide is a project of the DC Museum Collaborative, a group envisioned by the U.S. Department of Education to share ideas for improving teacher professional development based on lessons learned from Teaching American History grants. Meeting for the past two years, the group developed the guide's content through discussions, interviews, and workshop sessions.
While the examples are drawn from the DC area, the strategies and tips shared apply no matter where you plan to visit. Good professional development is more than a lecture—it is a chance to experience history. Summer is coming, so start planning how your teachers can begin Visiting History today!
For more information
For more about quality professional development—both inside and outside the classroom—take a look at our Roundtable on what makes professional development meaningful for teachers.
Visit Teachinghistory.org's Teaching American History grants section for Lessons Learned and Project Spotlights.