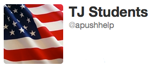 Sun 5 2012
Introduction
FDR once said, "Be sincere, be brief, be seated." In recent years I have attempted to find ways to "get out of the way" of student learning more, and not be the omnipotent source of information and ideas. This past year, this led to my adventures in the world of tweeting.
I began this year with lofty AP U.S. History (APUSH) goals, but a few months into the school year, I found myself behind, overwhelmed with grading, and beginning to lean on the "time-saving" crutches of PowerPoints and lectures. In fact, according to the semester evaluations from my students, many of them wanted me to "lecture more." I was amazed and appalled. For them lecture was a more efficient way to consume more information in less time. I was tempted to give in to their demands.
It was in the midst of this mid-season reflection that I remembered two important tenants I've tried to hold on to in teaching:
Students need authentic assessment.
Just because I taught it, doesn't necessarily mean they learned it.
Then I remembered an idea I had before the year began: the @apushhelp Twitter feed.
The purpose of this assignment was twofold. First, I wanted the kids to demonstrate their knowledge in a way that benefited other teachers and students. Second, I wanted to create a means of assessment in which students were asked to communicate complex ideas in an accessible way.
I am by no means a Twitter regular. Yet, when I considered the depth of the APUSH curriculum and the countless facts my students consumed daily, Twitter seemed like a fitting medium for assessing this content. In Twitter I could ask students to share the information they were learning, but also connect these seemingly disconnected facts chronologically within thematic units.
The Meat and Potatoes
Students were required to sign up for up to one week a quarter. They could work with one or two other students. Their job was to send me an email with six tweets for the week. Tweets had to be under 140 characters total.
I wanted the kids to demonstrate their knowledge in a way that benefited other teachers and students.
In each tweet, students were asked to provide short summaries of facts and ideas that we learned during that week. The goal was to take complex ideas and provide short explanations of these ideas in a way that could help students across the nation prepare for the APUSH exam. Student were encouraged to avoid inside jokes that only our class would understand and to make sure their writing was clear for all readers.
Students had to leave room for a "hashtag" for each tweet. For those unfamiliar with Twitter lingo a hashtag is the number sign (#) followed by a word or phrase (ex. #APUSHrules). A hashtag is used for categorical purposes. I created hashtags for each instructional unit (ie. #colonial, #civilwar, #coldwar, etc.). So in addition to posting a random fact, students also had to link that fact to a broader historical period through the hashtag. This also let anyone who viewed our Twitter page search for all of the different tweets about a certain time period. I hoped this would make it easier to review for the AP exam.
The other major part of this project was the "help" in @apushhelp. My students were required to respond to questions that any person who followed @apushhelp could send in. At first the questions trickled in and usually came from students in another APUSH class at our school, but as the AP exam neared, I was receiving multiple questions every day.
I would email the questions directly to the students assigned to that week. Their job was to research each question and provide an answer and a short link to show their sources.
In order to demonstrate to students that their work was reaching a greater audience than themselves, I also needed to do a little promotion. Through a couple of friends I made at summer institutes and list-serves, I was able to grow the following of our Twitter feed. It took a few weeks to get us over 100 followers, but after that, the growth was pretty explosive. By the AP exams, we had over 600 followers from across the nation, many of whom expressed their gratitude following the end of the exam.
The other major part of this project was the "help" in @apushhelp.
I also realized that, by only requiring my students to submit two tweets each quarter per student, I set the bar pretty low at first. Students could easily complete the assignment with surface level information or freeload off of a group member. I fixed this by requiring each student to send in four review tweets, on one particular day, in the weeks preceding the AP exam.
Final Analysis
This project was no "golden bullet," but it met students where they are, in a digital age, searching for fast ways to acquire as much information as possible. It required that they aggregate the ideas they learned each week and determine the most important. They were asked to find ways to simplify the content in a correct, concise, and accessible manner for a wide audience. Students had to consider what it was that audience was looking for. Most importantly, it let students see tools like Twitter as potential learning tools.
Even if the project wasn't a golden bullet, it was certainly "A PUSH" in the right direction.
My student enjoyed this project as well. At the end of the year, a number of them expressed their enjoyment of both the process and the result. They felt as though they had contributed to something beyond themselves and had improved others' APUSH experience. I even had a few that did extra tweets for each unit, to study for tests. So I would say even if the project wasn't a golden bullet, it was certainly "A PUSH" in the right direction.
If you would like to see the project assignment or rubric, or share ideas for student engagement feel free to contact me at smcampbell1 at fcps dot edu.
For more information
New to Twitter? Introduce yourself to the tool in Tech for Teachers.
Follow high school teacher Molly Myers as she learned the ins and outs of tweeting with her peers in her blog entry.
Joe Jelen turns in-class tweeting to his advantage with backchannel discussion. Learn more in his blog entry.